Hi, it's Sabrina! Today's post is an exciting one for me, because it's all about getting some personalised recommendations from The StoryGraph!  I put in my preferences – which I will be sharing with you too – and then almost immediately received recommendations tailored to my requests.  In this post, I'll be sharing with you the first thirteen recommendations that appeared on the list, starting with, and focusing on, the only five in that list that my library has on offer right now.  Essentially, this post is like a 5-star prediction TBR as I plan to read these personalised recommendations and get back to you on how well they suited my tastes in the near (…or slightly less near) future 🙂
MY PREFERENCES
The first part of this journey is updating my book preferences.  The StoryGraph has several things it asks you for before giving recommendations.  Most of these come with preset options to pick from, but one ("kind of books you like to read") is an open text box that you can fill in with anything you want, such as tropes and themes.  Here's all the information I input: 
🦋 Favourite genres 🦋
Fantasy, Science Fiction, Speculative Fiction, Thriller, Young Adult
🦋 Kind of books you like to read 🦋
Enemies to lovers trope, own voices authors, anthropology, pirates, archaeology, nature, magic, sentient setting, mythology, happy ending, found family, ancient history, Australian authors, superheroes, magical creatures, soulmate trope, swords, competitions, games, butterflies.
🦋 Characteristics you appreciate the most 🦋
Strong world-building/other-worldly, Plot-heavy, High-quality writing
🦋 Genres that you don't like/aren't interested in reading right now 🦋
Business, Economics, Travel, True Crime
🦋 Things that turn you off books the most 🦋
Flat characters, Poor writing, Gory horror/violence
🦋 You're never in the mood for books that are… 🦋
I left this section blank because I had no preference here.
MY TBR
These are the first five books that were suggested to me that are available from my library right now.  The provided synopses are from The StoryGraph.
1.  All the Stars and Teeth by Adalyn Grace
"Set in a kingdom where danger lurks beneath the sea, mermaids seek vengeance with song, and magic is a choice, Adalyn Grace's All the Stars and Teeth is a thrilling fantasy for fans of Stephanie Garber's Caraval and Sarah J. Maas's Throne of Glass series.
She will reign.
As princess of the island kingdom Visidia, Amora Montara has spent her entire life training to be High Animancer—the master of souls. The rest of the realm can choose their magic, but for Amora, it's never been a choice. To secure her place as heir to the throne, she must prove her mastery of the monarchy's dangerous soul magic.
When her demonstration goes awry, Amora is forced to flee. She strikes a deal with Bastian, a mysterious pirate: he'll help her prove she's fit to rule, if she'll help him reclaim his stolen magic.
But sailing the kingdom holds more wonder—and more peril—than Amora anticipated. A destructive new magic is on the rise, and if Amora is to conquer it, she'll need to face legendary monsters, cross paths with vengeful mermaids, and deal with a stow-away she never expected… or risk the fate of Visidia and lose the crown forever.
I am the right choice. The only choice. And I will protect my kingdom."
I have a confession: I actually picked this book up once before.  I read a few pages and returned it to the library because it was due back and I was in no rush to read past those pages.  I had a gut feeling that the plot wouldn't surprise me.  Still, the story does sound adventurous and having read the blurb now, I am excited to try reading the book again soon!   It's also worth mentioning that I did enjoy both Caraval and Throne of Glass (though I haven't finished either series), so that's promising!
2.  The Afterward by E.K. Johnston
"It has been a year since the mysterious godsgem cured Cadrium's king and ushered in what promised to be a new golden age. The heroes who brought the gem home are renowned in story and song, but for two fellows on the quest, peace and prosperity do not come easily.
Apprentice Knight Kalanthe Ironheart wasn't meant for heroism this early in life, and while she has no intention of giving up the notoriety she has earned, her reputation does not pay her bills. With time running out, Kalanthe may be forced to betray not her kingdom or her friends, but her own heart as she seeks a stable future for herself and those she loves.
Olsa Rhetsdaughter was never meant for heroism at all. Beggar, pick pocket, thief, she lived hand to mouth on the city streets until fortune–or fate–pulled her into Kalanthe's orbit. And now she's quite reluctant to leave it. Even more alarmingly, her fame has made her recognizable, which makes her profession difficult, and a choice between poverty and the noose isn't much of a choice at all.
Both girls think their paths are laid out, but the godsgem isn't quite done with them and that new golden age isn't a sure thing yet.
In a tale both sweepingly epic and intensely personal, Kalanthe and Olsa fight to maintain their newfound independence and to find their way back to each other."
I've never heard of this book before now, but it does sound very interesting and I am intrigued by the words "sweepingly epic and intensely personal". Also, 93% of reviewers said this book features loveable characters, so I am looking forward to that!
3.  Tarnished Are The Stars by Rosiee Thor
"The Lunar Chronicles meets Rook in this queer #OwnVoices science-fantasy novel, perfect for fans of Marissa Meyer and Sharon Cameron.
A secret beats inside Anna Thatcher's chest: an illegal clockwork heart. Anna works cog by cog — donning the moniker Technician — to supply black market medical technology to the sick and injured, against the Commissioner's tyrannical laws.
Nathaniel Fremont, the Commissioner's son, has never had to fear the law. Determined to earn his father's respect, Nathaniel sets out to capture the Technician. But the more he learns about the outlaw, the more he questions whether his father's elusive affection is worth chasing at all.
Their game of cat and mouse takes an abrupt turn when Eliza, a skilled assassin and spy, arrives. Her mission is to learn the Commissioner's secrets at any cost — even if it means betraying her own heart.
When these uneasy allies discover the most dangerous secret of all, they must work together despite their differences and put an end to a deadly epidemic — before the Commissioner ends them first."
I must admit that "deadly epidemic" has me feeling a bit nervous, but everything else about this book has me excited to read it. I never read the entire Lunar Chronicles, but I did enjoy the first book, so that's a good sign. I'm especially interested by the character dynamics that are described in the synopsis – there's a lot of potential for me to love the book there alone.
4.  A Spark of White Fire by Sangu Mandanna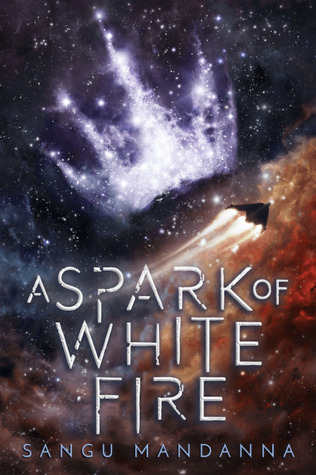 "In a universe of capricious gods, dark moons, and kingdoms built on the backs of spaceships, a cursed queen sends her infant daughter away, a jealous uncle steals the throne of Kali from his nephew, and an exiled prince vows to take his crown back.
Raised alone and far away from her home on Kali, Esmae longs to return to her family. When the King of Wychstar offers to gift the unbeatable, sentient warship Titania to a warrior that can win his competition, she sees her way home: she'll enter the competition, reveal her true identity to the world, and help her famous brother win back the crown of Kali.
It's a great plan. Until it falls apart.
Inspired by the Mahabharata and other ancient Indian stories, A Spark of White Fire is a lush, sweeping space opera about family, curses, and the endless battle between jealousy and love."
Okay, this book sounds really awesome and I want to put it on hold from the library right away.  Alas, I am at the borrow limit right now.  I am particularly excited about the curse, the competition and the sentient warship.  This book has a relatively high average rating (above four) on both The StoryGraph and Goodreads, so I am definitely getting my hopes up for this reading experience.
5.  The Glass Sentence by S.E. Grove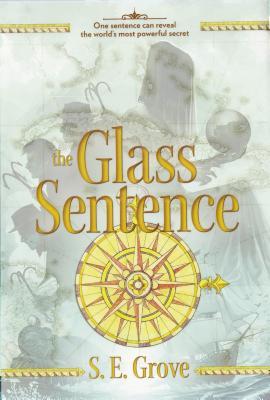 "She has only seen the world through maps. She had no idea they were so dangerous.
Boston, 1891. Sophia Tims comes from a family of explorers and cartologers who, for generations, have been traveling and mapping the New World—a world changed by the Great Disruption of 1799, when all the continents were flung into different time periods.  Eight years ago, her parents left her with her uncle Shadrack, the foremost cartologer in Boston, and went on an urgent mission. They never returned. Life with her brilliant, absent-minded, adored uncle has taught Sophia to take care of herself.
Then Shadrack is kidnapped. And Sophia, who has rarely been outside of Boston, is the only one who can search for him. Together with Theo, a refugee from the West, she travels over rough terrain and uncharted ocean, encounters pirates and traders, and relies on a combination of Shadrack's maps, common sense, and her own slantwise powers of observation. But even as Sophia and Theo try to save Shadrack's life, they are in danger of losing their own.
The Glass Sentence plunges readers into a time and place they will not want to leave, and introduces them to a heroine and hero they will take to their hearts. It is a remarkable debut."
This book promises to be quite adventurous – "a world changed by the Great Disruption of 1799, when all the continents were flung into different time periods" in particular sounds so interesting. Some people have it listed as middle grade, so I may even be able to count it for the Out of Your Comfort Zone challenge, which is another incentive for me to read this.
BACKUPS
I also have four backup books to read in case I lose access to the ones above:
The Crystal Skull by Manda Scott
The Hunt For Atlantis Andy McDermott
The Undivided by Jennifer Fallon
These Rebel Waves by Sara Raasch
THE OTHER RECOMMENDATIONS
Finally, here are the eight books that came recommended to me first that I could not find at my library. I haven't heard of any of them before, but I'm including them here for two reasons – the first is that maybe you'll spot a book here that interests you and the second is that maybe one of you has read these books and thinks it's worth me either requesting or purchasing myself!
Havemercy by Danielle Bennett and Jaida Jones
Every Hidden Thing by Kenneth Oppel
Heirs of Power by Kay MacLeod
Airborn by Kenneth Oppel
Treasure of the Abyss by Tiffany Roberts
Starship's Mage by Glynn Stewart
Shadow Run by Michael Miller and AdriAnne Strickland
Her Robot Wolf: Gift of Gaia by Jenny Schwartz
What do you think?
Do you use The StoryGraph and have you tried their personalised recommendations? Have you ever tried any other personalised recommendation services? Are there any books here that you think I should prioritise?  Let me know!