Hello friends! Vera here today with my first Spooky October post of the year. For those who are new here – Spooky October is a month-long event here at Wordy and Whimsical where Sabrina and I bombard you with Halloween appropriate posts. 🎃
For today's post, I decided to pair two things I love: horror films and reading. To be more specific, I'll be recommending books based on popular horror films I love. I tried to select films and books from a variety of horror sub-genres and I really hope I succeeded. I'm excited to hear your reaction, so let's jump into this post!
---
Books Similar to Get Out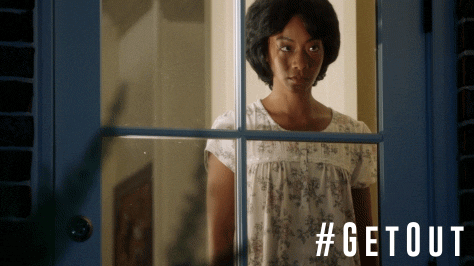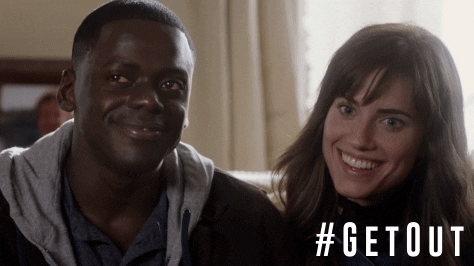 Get Out is one of my all time favorite horror / thriller films, and one that – imo- deserves all the love and hype it's gotten. For this film, I wanted to recommend books that (1) are tension-packed and difficult to put down, and (2) address race in a similar vein to Get Out.
🎃 Ace of Spaces follows Chiamaka and Devon, two Black students who reluctantly decide to work together when an anonymous texter stars sharing their deepest secrets with the student body. This is a thrilling dark academia novel that addresses institutional racism as well as homophobia and one that was inspired by Get Out.
🎃 Friday Black is a fantastic sci-fi short story collection – somewhat in the vein of Black Mirror – that masterfully addresses topics like racism and capitalism. It's a book I flew through and that I cannot recommend enough.
🎃 Out of these three, When No One Is Watching is the only book I didn't totally love, but I decided to still include it, as I think it could work much better for other readers. This thriller follows Brooklyn born and raised Sydney, who starts to see just how sinister the gentrification has gotten in her neighborhood.
---
Books Similar to Fear Street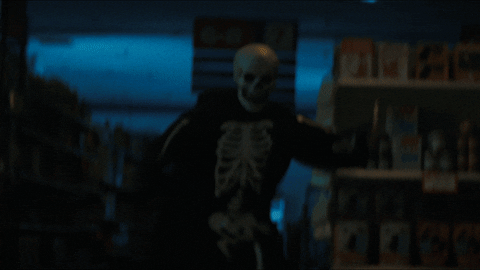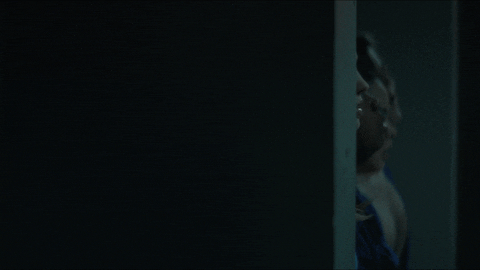 Fear Street is one of my more recent favorites, which is a bit surprising as I'm not a big fan of slasher film – e.g. I could never make myself enjoy Scream, even though I know it's considered an iconic horror film. I think the reason why Fear Street works for me is that it's more than your usual slasher – it has a well-crafted plot, some cool twists and characters I couldn't help but root for. I'm sure I'll rewatch this movie trilogy multiple times in the future.
🎃 Clown in a Cornfield follows Quinn, the new girl in town who's tentatively excited to attend her first party in her new town… until a creepy clown appears and starts murdering her peers. Remember when I said I don't like the slasher genre? Maybe I should reconsider, because Clown in a Cornfield is a glorious novel.
🎃 Survive the Night follows Charlie, a college student who, on her way home, realizes that she might have ditched a ride with a serial killer. I wasn't 1000% satisfied with the pacing of this one, but nonetheless, it was one exciting ride.
🎃 In No Exit, Darby is forced to wait out a vicious blizzard at a gas station populated by four strangers, one of whom is a kidnapper. This one and Survive the Night have a similar tone, so if you liked one of them, you'll probably like the other too.
🎃 One by One is more of a thriller than horror, but I wanted to include it, as it takes place at a remote ski resort, so it brings back the "you can't escape" feeling I had all through watching Fear Street.
---
Books Similar to Crimson Peak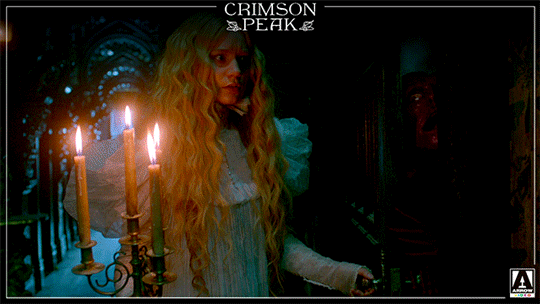 I know Crimson Peak isn't everyone's cup of tea, but I adore this movie. It's beautifully shot and incredibly atmospheric, so I tried to find similarly atmospheric titles to pair with it.
🎃 Whenever I try to think of atmospheric titles, Rebecca is the first novel that comes to my mind, so it's only fair to include it here. Rebecca follows our heroine who falls for an older man who's recently lost his wife, only to realize that Maxim – and his estate, Manderley – might not be as perfect as she thought he was.
🎃 Plain Bad Heroines expertly mixes past and present as we follow teachers and students' of a boarding school in the past, and the three young women who are at the center of film that's being made about the recently discovered sapphic history of the school.
🎃 In the Garden of Spite is the fictionalized story of Belle Sorensen, a real life black widow serial killer. What makes this novel extremely compelling is that besides Belle, we are also given her sister's point of view which means that we can see Belle from her own as well as from an outside perspective.
🎃 Unlike the other three, The Death of Mrs. Westaway takes place fully in present times, but its lush Gothic atmosphere is a good fit for Crimson Peak, nonetheless. It follows Hal, a young woman who receives a letter bequeathing her a substantial inheritance. She quickly realizes that there's been a mix up, but regardless, she decides to claim the inheritance. However, at the funeral, Hal has to realize that there's something wrong with this inheritance and with the family of Mrs. Westaway.
---
Books Similar to The Conjuring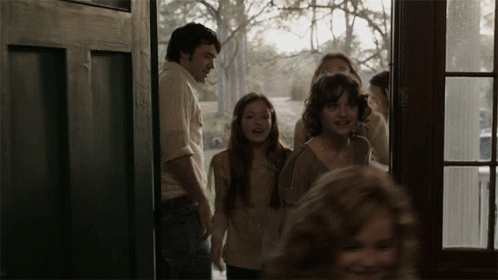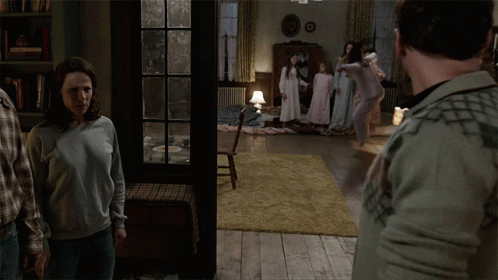 I've seen The Conjuring multiple times, but I just can't get bored of this film, even if the franchise has gotten really tired at this point. I think The Conjuring is how you make a great haunted house horror, so I brought four haunted house novels as my recommendations.
🎃 In The Siren and the Specter we follow a skeptic well-known for disproving hauntings. Skeptic or not, the house he currently resides in might just make him rethink his beliefs…
🎃 The Carrow Haunt follows Remy, tour guide to a haunted house who is asked to host a party of seven for a week long stay at the house. At first, their paranormal investigation seems promising, but things soon take a turn for the worse when the house starts to truly wake up.
🎃 Admittedly, Mexican Gothic was a bit disappointing to me, but I still commend Moreno-Garcia for how atmospheric this novel is. The story follows Noemí who is sent to investigate her newly-wed cousin's circumstances after said cousin sends a frantic letter asking for help.
🎃 In Kill Creek, four horror writers are invited to spend Halloween night at one of the most notoriously haunted houses of the US. At first, this is a simple publicity stunt, but the writers soon find themselves fighting for survival.
---
Let's chat!
Have you watched any of these films or read any of these books? What did you think of them? Do you have any horror films you would like to read similar books to?