Hi everyone and welcome to the end of another month! Can you believe we are almost halfway through 2021?! I am not feeling so great about that! We've both had quite a busy time this month and imagine a lot of you have too, but we still managed to read some books and hope you'll enjoy reading our thoughts on some of them below!
Before we get into that, we'd like to share some resources for a few things:
Things We Did
Vera: The final semester of my MA studies came to end towards the beginning of May, which meant scrambling to submit the essays and assignments required. I tend to be really good at not leaving everything to the last minute (because it makes me unbelievably stressed when I do that) but I procrastinated quite a lot this time around, mostly because I felt drained after submitting my thesis. Speaking of which, I received a perfect score for my thesis, which has made me immensely happy! On top of that, I got the best grade possible in all of my classes, which makes me really proud of myself.
Another good news from May is that I received my first dose of the Pfizer vaccine, and I'm getting the second dose on the 21st of June. The only side effect I had after the first dose was that my arm was pretty sore for about a day. I hate being sick (probably because I'm rarely sick so not used to it?) – especially having a fever – so I'm frightened of the second dose, lmao. Have any of you got it yet? What was your experience? On the way home from getting the vaccine, we stopped to get cake (like different types of slices of cake, not a whole cake) so that was a bonus.
June is going to be an eventful month for me, as I have my final exam on the 9th of June. I've been preparing for my final exam in the past two weeks, which will involve answering questions about my thesis and drawing a topic related to my studies (we know these ahead of time) that I then have to discuss in detail. It's going to be on Microsoft Teams, which makes me sooo uncomfortable and nervous. 😱 It was fine to have classes online, but to have an exam on Teams!? Truly a living nightmare. I'm also planning on venturing outside more in June – hopefully, I can even watch the new Conjuring film in the cinema!
---
Sabrina: I made a massive mistake last month by complaining that I never do anything and so have nothing to talk about in wrap ups – because this month, stuff just did not stop happening, lol.  I should have foreseen this too, because May has so many events – Mother's Day (we had a homemade high tea, which was fun!), my brother's birthday, my Mum's birthday and my Dad's birthday.  All the birthdays went pretty well except for my Dad's because we unexpectedly have been put under lockdown again so we had to cancel his birthday plans 😦
Before lockdown though, I did a few other things.  At the beginning of the month, I had my friends over for dinner and a movie – but we ended up talking instead of the movie, as usual, lol.  We also went out for dinner to Grazeland later in the month – this is a place where there are an assortment of food trucks in one spot and you have so many options of what to eat – the dessert options are particularly interesting.  The food was really nice but it was hard to find a place to sit and wow, was it freezing outside!
I've also had three little bad incidents this month: first, I slipped down the three steps in my house and had an enormous bruise on my knee and now have an unreasonable fear of falling again.  Second, I caught a cold for the first time in a long while and third, I am a tiny bit devastated to announce that I can no longer comfortably eat my favourite treat – chocolate.  I don't know what happened, but suddenly every time I eat chocolate (or salami, for some reason) my face feels like it's melting off of my skull.  There's no outward signs of the extreme discomfort I'm feeling – my face doesn't go red, and it doesn't make me sweat – so I have no idea why this started happening.
I'm kind of hoping June is not as eventful as this, lol, but having said that, I hope our COVID cases get back to zero and the lockdown gets lifted again soon.
Books We Read
Vera: I had an awful reading month, probably one of the worst ones I've ever had. Not only was I in a reading slump – which means that I only read ten books, two of which are novellas – but many of these books were incredibly disappointing; and sadly, this includes three of my most awaited 2021 releases. 😭 My average rating for this month was 3.5 which is definitely one of the worst monthly averages I've ever had. 😭 I hope June will be a stronger reading month, but I said the same thing about May in April – and then May was much worse – so that's not promising.
🌿 The month started off solidly with TWICE SHY, a new release I've been eagerly awaiting to read after hearing so many good things about it and finding Hogle's debut fun. It wasn't a mind-blowingly good book, but I shipped the romance and gave it a solid four star rating.
🌿 Then, things went to hell. I could see that some readers weren't fans of HONEY GIRL, but nonetheless, I jumped into this book with high expectations, as I've been waiting for this wonderful sounding f/f romance since I'd first heard about it. Unfortunately, it wasn't for me – I didn't like the writing, the characters, and as such I also wasn't a fan of the romance. It breaks my heart, but I can't give this any more than two stars.
🌿 I went into BROKEN GIRLS with low expectations and honestly, it was far better than I expected. I was captivated by the mystery and liked the characters, so I finished Broken Girls in a few seats, which is impressive given that my slump was terrible during this time. The only big issue I had was that the two narrators had very similar voices, which was especially baffling given how different they were as characters. Still, I gave this novel a weak four star rating.
🌿 PRETTY LITTLE WIFE was another hit! I don't always love domestic thrillers as they can get pretty repetitive, but this one packed some solid punches, four stars!
🌿 I read the first two MURDERBOT DIARIES novellas in May, and I'm 1000% sure I'll continue this series as soon as possible. I loved Murderbot (the character) so much! The only reason why these novellas aren't five-star-reads is that I'd have loved for the supporting cast to be more developed… but I'm sure that'll come later in the series, as I know some of them will be back later. Four stars.
🌿 After so many disappointments, I was excited to reread SILENT IN THE GRAVE alongside Sabrina as I love Deanna Raybourn's writing and this is my favorite series by her. I'm happy to say that I still love this novel, although it certainly isn't perfect and I might not have given it five stars had I read it for the first time now. Nonetheless, I'm leaving this with a five star rating for now.
🌿 After being reminded of my love for Deanna Raybourn, I decided to finally jump into A CURIOUS BEGINNING by her. Unfortunately, this novel proved to be less captivating than the Lady Julia Gray series. 😢 I liked the characters, but the mystery was boring and it turned outright ridiculous towards the end. Three stars.
🌿 Months ago, I read an article about THE LAST HOUSE ON NEEDLESS STREET, which made me incredibly excited to read this horror novel. Now, I wish I had never seen that article because man, this novel was utterly disappointing. Not only did I find one of the main elements of the novel questionable, but I also figured out the big twist early in the novel, which made it hard to enjoy it. Two stars.
🌿 My last read of the month, MEET CUTE, was the cherry on top of this shitty reading month. I picked Meet Cute up because I thought it could not possibly disappoint… I can't believe how wrong I was about that! The biggest issue with Meet Cute is that the main character is unbearable and he barely develops by the end of the novel! In fact, EVERYONE around him lets him off the hook super-easily, which drove me up the wall. In the end, I decided to round my rating up to three stars, because (1) it was better than my two star reads this month, and (2) it contains some important rep.
---
Sabrina: I managed to have a fairly good reading month in May, after a slow start.  I ended up reading 11 books and with that, completing my Goodreads Reading Challenge for the year!  I had a fairly average time in terms of quality to be honest, but I did find a new favourite book, so I'm still considering this month a success 🙂
🌿 I'll start with PEOPLE FROM MY NEIGHBOURHOOD by Hiromi Kawakami – it's such a strange little book; a collection of interconnected microfiction that often involves a surreal element… or several. I don't think I totally understood all of it, however, even taken at face value, I found this collection both charming and intriguing and I think I read it at the perfect time! 4/5 stars
🌿 My new favourite is THE BONE SHARD DAUGHTER by Andrea Stewart! I absolutely fell in love with this story – the characters, settings and conflicts are so interesting and I cannot wait for the next book in the series! This is an adult fantasy with epic world building, including an incredible and unique magic system. It definitely took my by surprise with how much I grew to care for these characters and I am so excited to see where the author takes them. Please read this book! 5/5 stars
🌿 I have been meaning to read THE HOUSE OF HADES by Rick Riordan for a very long time, and I finally got around to it. Though I was pleased to find that this book had much more action and less irritating, repetitive character drama than I remember the last books in the series having, I still found that the balance was missing. I also often found myself losing track of whose chapter I was reading from – even when it was Percy's, who usually has the most distinct voice, in my opinion. Despite this, I did really like a lot of this book. 3.5/5 stars
🌿 I also read CAN'T ESCAPE LOVE by Alyssa Cole. It's a wonderful romance novella that's part of the Reluctant Royals series. I must say that it was a little bit short for me – I wish it had been expanded even just a little bit, because I felt there were parts of the story missing – which is hard to explain without going into spoilers. Still, I adored the two main characters and their relationship progression. Super cute and super fun! 4/5 stars
🌿 Another hit for me this month was ANXIOUS PEOPLE by Fredrik Backman! I loved the way the author included humour alongside more serious subject matter and I appreciated the way the whole story wrapped up. I can't say that I particularly loved any of the characters but they all had moments within the story where they had a significant impact on me. 4.5/5 stars
🌿 THE MERMAID, THE WITCH, AND THE SEA by Maggie Tokuda-Hall was a bit of a surprise for me! I picked it up on a whim and ended up reading it within a couple of days. I really enjoyed this one, though none of the elements ended up being amazing – almost everything was just slightly off, like the pacing and the character relationships. It was a bit frustrating because this book was so close to perfect for me! Finally, I have to say that I loved the first part of the book the most. Still, 4/5 stars
🌿 Considering how much I adore the Broken Earth trilogy by the same author, THE HUNDRED THOUSAND KINGDOMS by N.K. Jemisin had a lot to live up to. Sadly, this book just didn't work all that well for me. I never felt invested in the relationships – in fact, I didn't even really believe in them. I sort of understand why this was the case, and maybe it wouldn't bother another reader, but it did bother me. Still, I really enjoyed the process of learning the intricate history of this world along with the main character and all the magic. 3/5 stars
Things We Watched
Sabrina:  It's just me this month for this section! In May, I managed to get up to date with two TV shows!  Unfortunately neither of them were on my 2021 Watchlist, but I still have time to watch those shows before the year is out 😅 I also decided to "DNF" one show in May and I'm finding I have a fair bit more time to read in the evenings because of that!  Without further ado, the TV shows I'm talking about: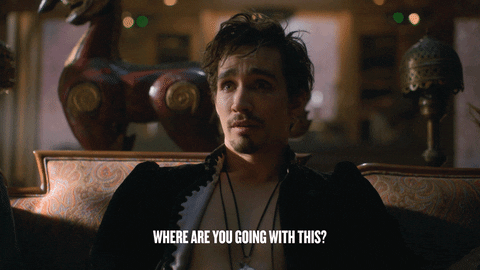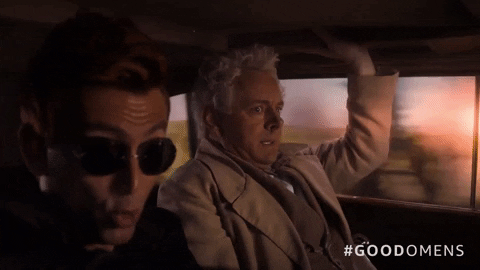 🌿 I finally, after a couple years of trying, got some members of my family (…Mum and Dad) to watch THE UMBRELLA ACADEMY with me, and I am so glad because I loved it a lot! I do have plenty of issues with it – I honestly hate Luther, lol – but I do like how you never know exactly what's going to happen next and Klaus in particular is always hilarious to watch. I'm really interested to see in what direction the third season will go.
🌿 I also watched the GOOD OMENS mini series! I haven't read the book, but I feel as though maybe I should now because I truly loved this TV show. I adored the main two characters and their relationship – I can still imagine their voices so clearly. I also enjoyed a lot of the humour and the way every episode brought something different. Will definitely be rewatching this series at some point soon.
🌿 I also finally worked up the courage to tell my family I was quitting watching ALIAS with them, lol. I got a few episodes into season three and that was enough for me – I couldn't look past my issues with it anymore. It was a bit too objectifying of Sydney, in my opinion, and it honestly doesn't seem like the writers thought very far ahead when putting the show together because they come up with the most ridiculous plot points sometimes. I'm sad it ended this way, but I'm glad I'm not wasting my time on it anymore.
Posts We Loved
🌿 Caro @ BookCheshireCat wrote about 8 Asian Books on her TBR, categorised by reading mood.
🌿 Kal @ Reader Voracious shared some game recs along with how they can help managing anxiety.
🌿 Kate @ Your Tita Kate shared 6 Asian Adult Fantasy Books To Check Out.
🌿 Maria @ The Character Study discussed reading classics.
🌿 Roberta @ Offbeat YA shared mini reviews of three books by the same author.
🌿 Tasya @ The Literary Huntress talked about books she's added to her Goodreads TBR this year – watch out because you'll want to add them all too!
Let's Chat!
Did you have a busy month too? Read any good books? Let us know!