Hello friends! After falling in love with The Magnus Archives in 2020 – a podcast that will likely not end happily, at least for some of the characters – I discovered the wonderful world of fanfiction. Unlike many others, I didn't have a fanfiction era when I was a teenager, likely because I only started reading in English when I was around 16. This opened a lot of doors for me in terms of how many books became available to me, so it is no surprise that I kept consuming 'real' books, and didn't even think of reading fanfiction. I think especially those of you whose first language is a smaller language that has a limited amount of books translated into it will understand what I'm saying.
In any case, I'd thought of seeking out fanfiction before, but I never did, until Magnus. I just love these characters too much to be okay with only getting a limited amount of content about them. As I'd gotten more familiar with fanfiction – and also read fics about other materials – I found my favorite fanfiction tropes, some of them being the same tropes I like in real books, while others are different. After Becky's wonderful post about this topic, I was inspired to create my own post and discuss some of my favorite fanfiction tropes, as well as how these appear in real books.
In the post, I refer to published books as "real" or "normal" books, but I don't mean that as a disrespect to fanfiction writers. I think fanfiction can be extremely well-written, loads of times better written than published fiction, and obviously, anyone that writes fanfiction deserves all the hugs and love in the world. Fanfiction writers are so epic, omg, and I'm so thankful for them. Anyhow, let's get into the fanfiction tropes I love!
~ Fake Dating ~
I doubt I'm the only one here who's a sucker for the fake dating trope, in and outside of fanfiction. Generally speaking, I love forced proximity – especially if the characters dislike each other – and that is obviously something that happens with fake dating. I love to see the characters slowly get to know each other better, and realize that they would make a fantastic real couple. Oh, and the part where the characters in the fake relationship are still clueless about their feelings, but everyone around them can see that they have real feelings for each other? Top tier shit. 🥺
Two of my favorite real book examples for fake dating are Take a Hint, Dani Brown and Act Like It, both of which are adult rom-com novels. The former is interesting as it follows a fake relationship between two people who already like each other, although one of them has sworn completely off relationships. Act Like It is one of the best fake relationship romances I've ever read and it also makes excellent use of the hate to love as well as the sunshine x grumpy characters tropes, in other words, it couldn't be more perfectly suited to my taste.
~ soulmates ~
My relationship with the soulmate trope is a bit more complicated than that. Basically, I love soulmate fanfiction with all my heart, but I dislike this trope in normal books. In fanfiction, I like the fact that it puts a spin on a relationship I know and love from a traditional piece of media, as it can create a dynamic that is very different from what we already know. I think the cutest example I've read of this was in a fic where the soulmates' hearts would beat the same rhythm, so if one of them starts to panic, the other can feel it too.
Even though I dislike this trope in real books, one of my favorite series utilizes this trope in (nearly) every single one of its novels. I am, of course, talking about Psy-Changeling, a series that does a fantastic job of using the soulmate trope. I like that Nalini Singh has delved deep into this trope and has shown us all kinds of soulmate bonds, which differ from each other based on what species the characters belong to, as well as on what their personalities are like.
~ there's only one bed ~
Remember what I said about loving forced proximity? Well, that applies here, obviously, because sharing a bed tends to push the characters together. I mean, who doesn't love the scene where the characters go to sleep on separate sides of the bed and wake up cuddling? 🥺 That shit's so cute, and fanfiction writers know this, and thankfully utilize this trope a lot.
I love this trope in real books, as well, the only issue is that published authors don't use it a lot!? They really should, but that's just my opinion. It Sounded Better in My Head is an adorable YA rom-com about a girl who becomes interested in her best friend's older brother. That Kind of Guy, on the other hand is an adult romance about a divorced woman who asks her close friend to accompany her to a bookish award ceremony as her boyfriend. Talia Hibbert is the queen of tropes, so this has age difference, friends to lovers, fake relationship the there's only one bed trope, of course.
~ time travel ~
For me, time travel is similar to the soulmate trope, as I love it in fanfiction but I don't love it in real books. I think this trope is especially fun in case of a piece of media that will likely end sadly – or that has already ended sadly. When it comes to Magnus, for example, this type allows me to acknowledge that a sad ending is coming and that horrible things have already happened, while also giving me an out by fixing that ending.
I'm not against time travel novels, but I also don't seek them out or get particularly excited when I hear about one. (On top of that, I don't think time travel is particularly popular right now, so I don't really see it around in normal books.) In any case, I used to be a big fan of the Ruby Red trilogy, which is a lighter YA time travel series that focuses heavily on the romance. Another good one is All Our Yesterdays, but I'll admit that I don't remember that book clearly – I do know that I loved it and was fully invested in it, though.
~ roommates ~
Again, being roommates ties in with forced proximity – I like it when the characters live together and so they are forced to get to know each other even if they dislike each other or think that they are too different. In my experience, fanfic writers like to use this trope when it comes to characters that are already friends or at least are in a friendly enough relationship. Anyhow, this is a fun trope and I don't think I'll have enough of it.
So, I honestly don't think I have a lot of examples for this from normal books? When I read YA novels, this isn't really possible, as teens live at home. When I read adult novels, they tend to live on their own or they live with close friends. A recent novel I read, The Roommate features two characters who unexpectedly become housemates and who, even though they seem different from each other at first, start to grow close to each other. I loved how sex positive and sex worker positive this novel was and I can't wait for the author's next book.
~ arranged marriage ~
Originally, this wasn't on my list, but then I realized that I quite enjoy this trope. In a way, this goes back to forced proximity, doesn't it? There's nothing that would force two people to spend more time together than being married. I think I like this trope in fanfiction because, similarly to soulmates fics, it puts a different spin on the relationship I already know from a traditional piece of media.
I was going to say that I haven't read a lot of arranged marriage novels, but I looked up some lists and apparently I have? Shocking. The Duchess Deal is one of my favorite romances and it is about a marriage of convenience that turns into love during the course of the novel. Cruel Beauty is more of a traditional arranged marriage, as it follows a girl who's married off to the monster who rules her kingdom. I love both of these novels, and would highly recommend them.
~ alternate universe ~
Obviously, the world alternate universe already suggests that it's a different universe from the one we are already familiar with, as such this trope can only exist in fanfiction. There are many-many types of alternate universe fics, but my favorites are cafe shop and flower shop alternate universes. I love these because they put the characters into an environment that is typically less stressful – or at least more normal – than the world and the issues they deal with in the original work they are from. It is always nice to see my favorite characters in a softer world than the real one they are from.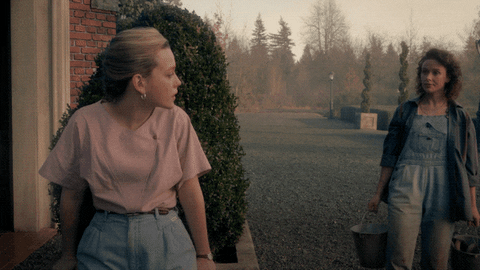 If I had to mention a traditional piece of media that uses these tropes, I'd have to pick The Haunting of Bly Manor, as it gave two of the characters a future where one of them owned a flower shop. The aesthetics of those scenes reminded me of a flower shop AU, and I loved that for them and for me. 🥺 This show is one of the best things I've consumed in 2020, highly recommended.
~ let's chat ~
Do you read fanfiction? If so, what are your favorite fanfiction tropes? If not, then what tropes do you enjoy in books in general? Do you like any of the ones I mentioned?