Hello everyone and Happy Galentine's Day!  It's Sabrina, and I thought today, in celebration of the holiday created by my favourite tv show, I would share a post celebrating both friendships and books.  So, I have created a little quiz that will tell you which book involving a wonderful friendship I think you should read! Of course, I understand the quiz won't appeal to everyone, so feel free to simply skip ahead to the results section to receive seven recommendations for great books with great friendships! 💜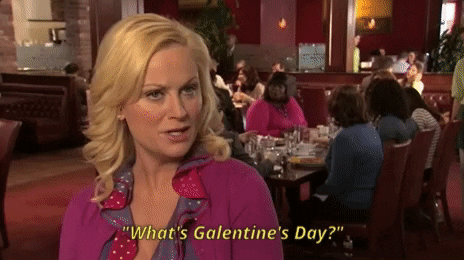 Let me also direct you to these related posts by Vera, if you want more books and friendships!
– {Getting Wordy} Friendships in Books
– Ten of the Best Bookish Friendships
I know Galentine's Day is supposed to be solely about female friendship, but I just read a fantastic book that I wanted to include but doesn't fit so today's quiz involves friendship in general 🙂
INSTRUCTIONS: There are five multiple choice questions, with a corresponding emoji (or more) for each answer. Choose your answer for each question and add up the number of each emoji you collect over the course of the quiz. At the end, the emoji you got the most of will tell you which book you got! Of course, you can select multiple answers for each question, or skip questions when you don't have a particular preference. Good luck!
THE QUIZ
What is your genre preference?
a) fantasy – 🐶 🔮
b) contemporary – 🐶 ✨ 🌥 🕯
c) sci-fi – 🚔 ✨ 🗞
d) mystery – 🐶 🌥 🕯
e) paranormal – 🌥 🕯
---
What sort of romance do you like in books?
a) no romance – 🐶 🚔
b) it's a subplot – 🕯
c) barely there – 🔮 🌥 🗞
d) it's a large part of the plot – ✨
---
What length of book do you prefer?
a) really short (<200 pages) – 🔮 🗞
b) short (about 200-300 pages) – 🚔 🕯
c) average (about 300-400 pages) – 🐶 ✨ 🌥
---
What kind of friendship most appeals to you?
a) established best friends – 🐶 🕯
b) a tight-knit group – ✨ 🗞
c) new friends with a quick connection – 🌥
d) unlikely friends – 🔮 🚔 🕯
---
What elements in this list interest you?
a) true crime – 🌥
b) stories within a story – 🐶 🔮 🚔
c) artwork – 🐶 🗞
d) ghosts – 🐶 🌥
e) girl gangs – 🗞 🕯
f) a slow build-up to an emotional ending – 🚔 ✨
---
THE RESULTS
If you got mostly 🐶 …
Elatsoe by Darcie Little Badger
"Imagine an America very similar to our own. It's got homework, best friends, and pistachio ice cream.
There are some differences. This America been shaped dramatically by the magic, monsters, knowledge, and legends of its peoples, those Indigenous and those not. Some of these forces are charmingly everyday, like the ability to make an orb of light appear or travel across the world through rings of fungi. But other forces are less charming and should never see the light of day.
Elatsoe lives in this slightly stranger America. She can raise the ghosts of dead animals, a skill passed down through generations of her Lipan Apache family. Her beloved cousin has just been murdered, in a town that wants no prying eyes. But she is going to do more than pry. The picture-perfect facade of Willowbee masks gruesome secrets, and she will rely on her wits, skills, and friends to tear off the mask and protect her family."
I just recently read this book and it was so good! The friendship between Ellie and her best friend is incredible – I loved seeing how supportive they were of each other over the course of the novel. I also loved the strong familial ties present in the book and the fantasy elements of the story. I really struggled to put this down after the first few chapters!
If you got mostly 🚔 …
The Memory Police by Yoko Ogawa
"On an unnamed island off an unnamed coast, objects are disappearing: first hats, then ribbons, birds, roses—until things become much more serious. Most of the island's inhabitants are oblivious to these changes, while those few imbued with the power to recall the lost objects live in fear of the draconian Memory Police, who are committed to ensuring that what has disappeared remains forgotten.
When a young woman who is struggling to maintain her career as a novelist discovers that her editor is in danger from the Memory Police, she concocts a plan to hide him beneath her floorboards. As fear and loss close in around them, they cling to her writing as the last way of preserving the past."
This book had a huge impact on me, and I still find myself thinking about it from time to time, months after reading it. I do like to warn people before recommending it that it's not a good one to pick up if you are someone who needs all the answers and a happy ending. It's a slower, quieter book that is thought-provoking and emotional. Plus, I love the main group of characters and their relationships with each other.
If you got mostly 🔮 …
The Empress of Salt and Fortune by Nghi Vo
"With the heart of an Atwood tale and the visuals of a classic Asian period drama The Empress of Salt and Fortune is a tightly and lushly written narrative about empire, storytelling, and the anger of women.
A young royal from the far north is sent south for a political marriage. Alone and sometimes reviled, she has only her servants on her side. This evocative debut chronicles her rise to power through the eyes of her handmaiden, at once feminist high fantasy and a thrilling indictment of monarchy."
This fantasy novella didn't grip me quite like I wanted it to, but the complex friendship in it was truly something to behold. The fairytale qualities to the story were enchanting along with the settings, and the themes of feminism and rebellion are quite powerful. If you're looking for a quick read, this is well worth considering!
If you got mostly ✨ …
The Weight of the Stars by K. Ancrum
"Ryann Bird dreams of traveling across the stars. But a career in space isn't an option for a girl who lives in a trailer park on the wrong side of town. So Ryann becomes her circumstances and settles for acting out and skipping school to hang out with her delinquent friends.
One day she meets Alexandria: a furious loner who spurns Ryann's offer of friendship. After a horrific accident leaves Alexandria with a broken arm, the two misfits are brought together despite themselves—and Ryann learns her secret: Alexandria's mother is an astronaut who volunteered for a one-way trip to the edge of the solar system.
Every night without fail, Alexandria waits to catch radio signals from her mother. And its up to Ryann to lift her onto the roof day after day until the silence between them grows into friendship, and eventually something more . . ."
I talk about this YA contemporary with a touch of sci-fi on the blog all the time and it is for a darn good reason! There is a wonderful friendship group in this novel along with a new friendship that starts off super rocky but grows into something else – as the synopsis states. The writing style and the short chapters in this book make it fly by and also make every scene significant. I love this book and I hope you do too!
If you got mostly 🌥 …
The Sun Down Motel by Simone St. James
"The secrets lurking in a rundown roadside motel ensnare a young woman, just as they did her aunt thirty-five years before, in this new atmospheric suspense novel from the national bestselling and award-winning author of The Broken Girls.
Upstate NY, 1982. Every small town like Fell, New York, has a place like the Sun Down Motel. Some customers are from out of town, passing through on their way to someplace better. Some are locals, trying to hide their secrets. Viv Delaney works as the night clerk to pay for her move to New York City. But something isn't right at the Sun Down, and before long she's determined to uncover all of the secrets hidden…"
Sure, I had my issues with this paranormal mystery/thriller, but it still ended up on my favourites list last year! It was so mysterious, creepy and exciting that it often had me on the edge of my seat, tearing through the pages. It was super atmospheric, being set at a rundown motel, and genuinely scared me on occasion. There is a newfound friendship in the book that seemed strange to me to begin with, but I grew to love it.
If you got mostly 🕯 …
Undead Girl Gang by Lily Anderson
"Mila Flores and her best friend Riley have always been inseparable. There's not much excitement in their small town of Cross Creek, so Mila and Riley make their own fun, devoting most of their time to Riley's favorite activity: amateur witchcraft.
So when Riley and two Fairmont Academy mean girls die under suspicious circumstances, Mila refuses to believe everyone's explanation that her BFF was involved in a suicide pact. Instead, armed with a tube of lip gloss and an ancient grimoire, Mila does the unthinkable to uncover the truth: she brings the girls back to life.
Unfortunately, Riley, June, and Dayton have no recollection of their murders, but they do have unfinished business to attend to. Now, with only seven days until the spell wears off and the girls return to their graves, Mila must wrangle the distracted group of undead teens and work fast to discover their murderer…before the killer strikes again."
I'm pretty sure I bring this book up quite a bit, but it's only because I enjoyed it so much. The friendship at the core of this story is something very special as is the newfound friendship that occurs over the course of the book. I loved the main character's development and the mystery element kept me intrigued all the way through. This paranormal, witchy YA is a lot of fun!
If you got mostly 🗞 …
Paper Girls by Brian K. Vaughan
"In the early hours after Halloween of 1988, four 12-year-old newspaper delivery girls uncover the most important story of all time. Suburban drama and otherworldly mysteries collide in this smash-hit series about nostalgia, first jobs, and the last days of childhood."
The final book today is a sci-fi graphic novel series! And it's a series that is totally completed, so you don't have to worry about waiting for the next instalment. The books are very quick reads, and I recommend reading them directly after one another so you don't forget important details, which is a significant danger because there is always so much going on! There is never a dull moment. I love how fast-paced it is and the different relationships explored between the girls.
What do you think?
Did you take the quiz, and if so, which book did you get? Have you read any of the books I suggested or are you hoping to soon? Have you got any Galentine's Day plans? Let me know!