Hello friends, Vera here! Even though Spooky October is over (booo) I still want to discuss the spooky books I read last month. I think horror, mystery, and thriller are genres well suited for cold fall and winter days / nights when you can curl up with a mug of tea and a warm blanket and wait for these books to draw you into their frightening atmospheres. 🥰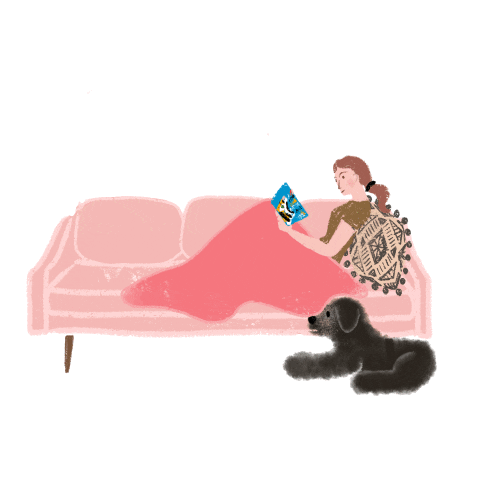 After months of drought, I was finally satisfied with the amount of books I read last month, most of which were mystery-thrillers and horrors. As I didn't want to write a full review for any of these, the idea for this post was born. I tried my best to add content warnings but I can't promise I didn't miss something – in that case, I'm sorry. If you're worried about a particular thing, feel free to reach out to me and ask about it, as I'll probably be able to tell you if the book(s) have that or not. Also! I didn't add the typical horror stuff, e.g. gore and murder, but again, if you want to know how bad it is, don't hesitate to ask me!
Horror Novels
Craven Manor and The Folcroft Ghosts by Darcy Coates
Darcy Coates is an author I've seen around quite a lot – if you've looked into contemporary horror writers, you've probably heard of her as she is rather prolific author – but I hadn't picked up her novels until about a year ago. That's when I read The Carrow Haunt, which was such an atmospheric, enjoyable ghost story that I immediately became interested in Coates' books. Unfortunately, the two Gothic Romances I read by her were disappointing, but still, I was looking forward to reading more horror novels. This Halloween season, the time has finally come – I managed to read not one, but two of her books.
Here's the thing, her books are not groundbreaking, they are pretty typical examples of supernatural horror. But even so, there's something about them that makes me want to read more books by her. I think their best quality is how atmospheric they are, which makes it easy to get lost in them. On top of that, while the characters are not especially well-written, they are likable, so seeing them come out as the survivors at the end always warms my heart. At the same time, the latter part of that sentence might be considered a negative too – few people reach for horror for a low-stakes story. I feel like I'm not selling these books for you, but they are enjoyable, I swear. If you're looking for lighter, fast horror novel, Darcy Coates might be someone to check out.
---
The Twisted Ones by T. Kingfisher
I never even knew that folk horror was a genre, much less a genre I would enjoy to this extent, but here we are! The Twisted Ones follows Mouse who, while in the process of cleaning out her deceased grandma's house, discovers that there might be dangerous creatures living in the woods.
The Twisted One kept me captivated from start to finish – it was a fantastic novel, filled with wonderful characters, exciting revelations, and it had a precious dog who survives until the end! If you consume horror in any of its forms, you know how rare that is. Out of all the books I read last month, this is the only one that managed to truly scare me at parts, as its atmosphere was incredibly dark and well-crafted. So good.
---
Tender Is the Flesh by Agustina Bazterrica
Saying that I was excited to read a novel where humans eat humans sounds wrong, but look, this is a unique premise! I was looking forward to seeing how Agustina Bazterrica would realize it, and I was not to be disappointed.
Bazterrica does a fantastic job of waving hard-hitting social criticism in her story; some of that is a criticism of the meat industry, as you can probably guess, but there's a lot more, less on-your-nose stuff in here too. Tender Is the Flesh was extremely close to a five-star-read as it remained with me even after I finished it. Ultimately, though, I had to consider that I wasn't a fan of the writing – actually, it took me out of the story on multiple occasions – so I couldn't give the book the magical final star. Even so, highly recommended.
Content Warnings: sexual assault, extremely graphic violence against humans and animals, humans being eaten.
---
Malorie by Josh Malerman
While I hated Netflix's adaptation, the Bird Box is easily one of my favorite horror novels. Despite that, I was terrified of reading Malorie, as I typically am of sequels that seem to have been added due to the original's success. As such, I went into Malorie half expecting it to be disappointing.. but I'm glad to say that it ended up being a positive surprise.
Malorie takes place years after the events of Bird Box, and it does a pretty solid job of further developing the world and the characters we already know from the first novel. For me, the horror wasn't quite as effective as in Bird Box – I was highly intrigued but never scared – but it is a worthy sequel to the original nonetheless. Would definitely recommend to those who wanted more after finishing Bird Box.
---
The Only Good Indians by Stephen Graham Jones
The Only Good Indians is one of the most hyped horror novels of 2020, I believe, and not only can I see why that is but I also agree with it. The novel, which is written by a Native American author, follows multiple Native American characters as they are trying to escape a being that wants to take its revenge on them for a past crime. While it took me a bit of time to get used to the writing, when I did, I found myself incredibly engaged in the story.
Above all, I love that Stephen Graham Jones doesn't follow the usual pattern of horror novels. Instead of being given a gradual build up, I felt like I was always on the edge of my seat, as he would throw in unexpected twists and scenes from pretty early into the novel. I was utterly in love with this book and had such a hard time deciding between 4 and 5 stars that I'm still not 1000% sure of my decision.
Content Warnings: graphic animal violence
---
Children of the Dark by Jonathan Janz
This is my third novel by Jonathan Janz and the second that I was disappointed by. It's a mixture of a serial killer story and a dark fantasy, which could have been so intriguing but alas, it didn't work for me. I never got invested in the characters and the story, and I frequently realized that my attention was slipping, even though the audiobook narrator was pretty solid.
That said, I don't think Children of the Dark is a bad book, but I also wouldn't call it a great book; all in all, it was pretty mediocre. As in, I was interested enough to continue until the end, but I never actually cared about the characters which made it difficult to get excited over the plot. Honestly, I couldn't care less about who lived and who died, which is an issue in a high stakes novel like this.
Content Warnings: prescription drug addiction, bullying, domestic violence
---
Thornhill by Pam Smy
I don't really read graphic novels, but I couldn't say no to Thornhill, as it sounded like exactly my kind of book. We follow Mary, and orphan, in the past as she writes about bullied by the other girls at their home, Thornhill. In the present, we are given drawings of another girl, Ella, who moves into the house with a view of Thornhill and becomes fascinated by the now-abandoned house.
It's an incredibly fast read, but one that remained with me hours after I finished it. I suppose you might guess the ending if you try – after all, it's not the most shocking twist in the world – but that didn't impact my enjoyment of the novel. In fact, I think the novel's simplicity that makes is so wonderful and special. If you're looking for an atmospheric YA horror with beautiful art, Thornhill is for you.
---
Contagion by Erin Bowman
Contagion sounded bloody fantastic, so a while ago I purchased both novels in the duology; alas, I won't be reading the second book. The story follows a crew who are sent to investigate an SOS call that came from a distant and notoriously dangerous planet. When they arrive, they are shocked to find discarded weapons, rotten food.. and the dead bodies of nearly everyone stationed there. The question is – are the newly arrived crew-members in danger, too?
I was intrigued at first, however, not only did I lose interest relatively fast, but I also never felt 1000% invested in this story. While a sci-fi horror featuring some kind of virus should freak me out – normally too but especially right now – it really didn't affect me.
Mystery-Thrillers
Sweetpea by C.J. Skuse
I've recommended Sweetpea in our Mystery Thriller recommendations post, so some of you may have seen me scream about how excellent this thriller is. It follows Rhiannon, a sociopath who finally cracks and starts murdering people towards the beginning of the novel. While Sweetpea doesn't have a super-concrete plot, it was still a fascinating read that was able to make me crack quite a few smiles…
I know how that sounds, but listen – Rhiannon is a witty, sarcastic narrator with a really engaging voice. Speaking of narrators, if you're able to, get the audiobook! It gave me a fantastic reading experience; honestly, I doubt I'd have enjoyed Sweetpea as much as I did had I not listened to the audiobook.
Content Warnings: cheating, torture, mention of sexual assault and rape
---
The Cheerleaders by Kara Thomas
I had such high hopes for The Cheerleaders, as I read and loved Little Monsters, an earlier novel by Kara Thomas. Little Monsters was engaging, twisted and shocking – The Cheerleaders, on the other hand, was none of those things. It follows Monica, a teen whose older sister committed suicide five years ago, around the same time when four other cheerleaders died. While Monica has always questioned her sister's death, this is the first time she's taking steps to find out what happened to her sister and the other girls.
That premise sounds wonderful, doesn't it? I thought so treoo, but alas, The Cheerleaders did nothing but test my patience with its clichéd characters, tropes, and twists. This book should appear next to the word "disappointment" in the dictionary, I swear to god.
Content Warnings: suicide, statutory rape, sexual assault, substance abuse, abortion
---
The Cheerleaders by Kara Thomas
As someone who loves adult mysteries, I've been feeling like such a black sheep for not having read anything by Liane Moriarty, especially because Ruzi, our old-coblogger, is a fan of Moriarty's books. Finally, the time came for me to pick up The Husband's Secret by the author, and while it wasn't a life-changing novel, it was certainly enjoyable.
One day, Cecilia finds a sealed letter written by her husband addressed to her. This letter, which should have been opened only after his death, will forever alter the family's life. Overall, this book kept me interested, however, aspects of it weren't to my liking – for example, one of the three narrators seems pointless, she was barely connected to the plot. Even so, I'm open to reading more books by the author in the future.
---
The Family Upstairs by Lisa Jewell
Two years ago, I read Then She Was Gone by Lisa Jewell, which I thought was a rather mediocre thriller. Since then, I have not picked up anything by Jewell, and I wasn't planning to, buuut The Family Upstairs received such positive reviews! You may not know this, but I'm bad at saying no to the hype, so my dumb ass caved in and got myself a copy, right in time for October.
The premise of the novel – a young woman inherits a mansion from her birth parents who were involved in a suicide cult – was fascinating, however, the story fell incredibly flat. Not only were the twists boring and, more often than not, handed to us on a silver tray, but the identity of one of the bad guys was gross and, dare I say, problematic, in my opinion. Would not recommend.
Content Warnings: statutory rape, sexual assault, manipulation, cheating
---
One by One by Ruth Ware
I'm always excited when I hear about a new Ruth Ware novel being released, but her books are a hit or miss for me; thankfully, One by One was a total hit. The story follows a group of colleagues – and their two hosts – who end up stuck at a ski resort, completely cut off from the outside. As they start to die one by one, they have to start wondering about which one of them is the killer.
I was so invested in One by One, I couldn't stop reading it and I finished it really fast, especially for an audiobook. I love the "being stuck somewhere with a killer" trope, and Ruth Ware used it expertly here. While some of the twists were somewhat easy to see – after all, it's not like there were many potential killers here – that didn't affect my enjoyment of the story, which shows you what a fantastic thriller this is.
Content Warnings: sexual assault
Let's chat!
Have you read any spooky books during October? What were your favorites / least favorites? Have you read any of the books I mentioned? Do we agree on them? Do you want to read any?