Hello friends! If you've been with us for a while, you may have seen that I've gotten really into dedicating posts to my favorite authors and series. I really enjoy discussing books and authors I love in a format that is, at least to an extent, different from regular reviews. So far I've written about Talia Hibbert, Alyssa Cole, Lucy Parker, and Rebecca Schaeffer – and you can visit these posts by clicking on the authors' names.
In a similar vein, today I'm going to talk about Fonda Lee and her magical, wonderful epic fantasy series, The Green Bone Saga. Writing this post took me months, because this series is so perfect that I had a hard time saying (or, more like screaming) anything other than than "READ THIS, IT'S EVERYTHING YOU NEED."
Yes, The Green Bone Saga is that special, and I can't wait to hear what you think about it if you've read it. And if you haven't? Well, let me convince you to pick it up asap. It deserves all the love.
Meet Jade City by Fonda Lee
The Kaul family is one of two crime syndicates that control the island of Kekon. It's the only place in the world that produces rare magical jade, which grants those with the right training and heritage superhuman abilities.

The Green Bone clans of honorable jade-wearing warriors once protected the island from foreign invasion–but nowadays, in a bustling post-war metropolis full of fast cars and foreign money, Green Bone families like the Kauls are primarily involved in commerce, construction, and the everyday upkeep of the districts under their protection.

When the simmering tension between the Kauls and their greatest rivals erupts into open violence in the streets, the outcome of this clan war will determine the fate of all Green Bones and the future of Kekon itself.
the characters are fucking incredible
As someone who has the memory of a goldfish, I got scared when, right at the beginning, Fonda Lee introduced tons of characters in a short amount of time. It was daunting. But I had nothing to worry about! While there are, indeed, many-many characters, they all have distinct personalities and voices that make them stand out.
On that note, don't be worried about the abundance of main characters – I'd say there are around four or five main characters in the series, and the others have bigger, or smaller roles depending on where we are in the story. Lan, Shae, Hilo and Anden are the four most important names to begin with, and I'd include Wen as a main character too, particularly in Jade War.
These protagonists, as well as the supporting cast, are unique and well-written, which is exactly why I adore basically everyone in the series. Yes, they absolutely do morally grey and questionable things, and they aren't always likable, however, that is exactly what makes them so realistic and well-developed.
Regarding their development, I was happy to realize that years go by in each book, meaning that the characters' have had the chance to evolve a lot since the beginning. They've been faced with death, war, and international conflicts and these shaped them into who they are at the end of Jade War. The character development we see in the series is top notch, one of the best examples I've ever seen.
complex sibling relationships for the win
Lan, Shae and Hilo are siblings, while Anden is their teenaged adopted brother, and oh boy, their relationship isn't always perfect. Lan, the eldest, is very close to all of them, in a big part because he is the most understanding and patient older brother anyone could ask for. Anden, the youngest, is loved by all his step-siblings, and for good reasons – Anden is lovely and kind of soft, and he cares deeply for his family and clan.
Hilo and Shae, however, have always been competitive, and ever since Shae chose to leave the clan Hilo has been angry, and I mean angry at his sister. There's a lot they have to overcome before they can put their issues aside, and seeing them working on this has been an absolute pleasure.
the plot is intricate and full of surprises
These books are long, and for a good reason – there needs to be enough time to show how the characters are planning out things, and to see how these plans either succeed, or fail. It's important to remember that the Green Bone Saga concentrates on the conflict between the two biggest clans in Kekone; and when I say big, I mean that No Peak and Mountain effectively control the country.
Think of it as a war between two powerful nations – such a war cannot end from one day to the next, and even if it ends, there's always more going on in the background that the public doesn't see. This means that we're getting twists and surprises all the time, and we also see how No Peak is trying to get ahead of the Mountain Clan (and vice versa.)
no character is safe
Of course, none of us want our favorites to die, but when you've read a lot of fantasy novels that never kill off characters, safety becomes boring. Not to mention it's unrealistic – no Green Bone is safe during the clan wars, and our main characters are at the top of the food chain, which means that their lives our in constant danger.
I love that Fonda Lee's made me care so deeply for her characters that if/when someone is hurt I'm absolutely heartbroken. There's one particular character I'm thinking of who dies in the first book; even after finishing that one and Jade War, I've been unable to fully get over this death. It broke me.
the world is brilliant
The magical system is explained so well and in so much detail that it's remarkably easy to get lost in this world, in this story. Fonda Lee keeps astonishing me with how well thought out this series is, both when it comes to the plot and the world building.
I especially love that she goes into detail about internal and external conflicts both. I feel like lots of fantasies concentrate on one particular country or place, but here we're seeing more and more of foreign countries as the series progresses. A big chunk of Jade War took place is Espenia, a country that's remarkably different from Kekone, and it was fun to see what life is like there.
a fascinating enemy
I've always had trouble liking the enemy, and I rarely understand readers' fascination with villains. It's not that I'm always rooting for the good guys, rather that I'm always rooting for the main characters who tend to be the good guys. It's hard to like, or even respect the other side when they are going against the characters I know and love.
In the Green Bone Saga, however, I have massive respect for Ayt, the Pillar of the Mountain Clan, as well as for the other Mountain Clan members that have been introduced. The way Ayt took control of her clan, the way she's leading her clan, and playing No Peak is fun to read about. Don't get me wrong, I'm 1000% rooting for No Peak, but the Mountain Clan is badass and I can't not acknowledge that they are playing this game masterfully.
about the author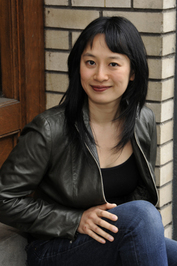 Fonda Lee writes science fiction and fantasy for adults and teens. She is the author of the Green Bone Saga, beginning with Jade City (Orbit), which won the 2018 World Fantasy Award for Best Novel, was nominated for the Nebula Award and the Locus Award, and was named a Best Book of 2017 by NPR, Barnes & Noble, Syfy Wire, and others. The second book in the Green Bone Saga, Jade War, released in 2019 to multiple starred reviews.

Fonda is a former corporate strategist who has worked for or advised a number of Fortune 500 companies. She holds black belts in karate and kung fu, loves action movies, and is an Eggs Benedict enthusiast. Born and raised in Canada, she currently resides in Portland, Oregon.

You can find her on twitter, goodreads, and her website.
let's chat!
What are some of your favorite fantasy series? Have you read the Green Bone Saga? Maybe something else by the wonderful Fonda Lee? Let me know in the comments below. 🙂