Hello friends! Women's History Month has come and gone, but, as Caitlin points out in her own post, women can and should be celebrated all year round. Thus we have brought you a tag that was created to celebrate outstanding women and female authors, and we hope you'll enjoy our picks.
Many thanks to Caitlin for tagging us, and to Margaret for creating this fun tag and for tagging us! 💛 If you guys do the tag, don't forget to (1) choose books by female authors, (2) link back to Margaret!
---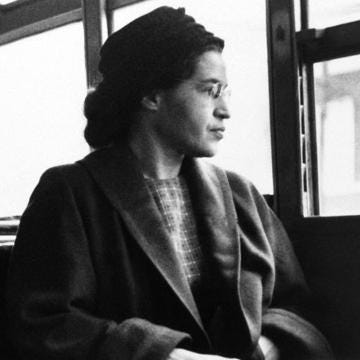 ROSA PARKS: Rosa Parks was a civil rights leader whose refusal to give up her seat to a white passenger on a segregated bus led to the Montgomery Bus Boycott. Her bravery inspired nationwide efforts to end racial segregation. Parks was awarded the Martin Luther King Jr. Away by the NAACP, the Presidential Medal of Freedom and the Congressional Gold Medal.
A book about a female character who doesn't do as she's told.
Vera: The Cure for Dreaming by Cat Winters is the most perfect answer to this question! The main character, Olivia, is a suffragist whose father cannot accept that his daughter has her own thoughts and desires. He pays a hypnotist to transform Olivia into a docile, quiet girl, but the results – and the hypnotist – are different from what he expected.
Sabrina: Deena from All the Bad Apples by Moira Fowley-Doyle definitely does not do what she is told. When her sister goes missing, presumed dead, Deena doesn't give up – no matter what everyone around her says. Much of this book focuses on the suffering of women as well as LGBT+ people throughout history, and Deena is a great force for good amongst all the tragedy.
---
ADA LOVELACE: The Daughter of famed poet Lord Byron, Augusta Ada Byron, Countess of Lovelace – better known as "Ada Lovelace" – showed her gift for mathematics at an early age. She has been called "the first computer programmer" for writing an algorithm for a computing machine in the mid-1800s.
A book with an intelligent female character.
Sabrina: Melody from Out of My Mind by Sharon M. Draper can't walk, talk or write due to cerebral palsy, but she is incredibly intelligent! She has a photographic memory and though she struggles with maths, she is the smartest kid in her year level.
Vera: Despite the fact that she has to work to get where she is at the end of the novel, I believe Ismae from Grave Mercy is a good choice for this question. She needs a bit of time to get well-versed in court politics but when she get there, she gets there.
---
QUEEN ELIZABETH I: Queen Elizabeth of England claimed the throne in 1558 at the age of 25 and held it until her death. During her reigh, Elizabeth I established Protestanism in England; maintained peace inside her previous divided country; and created an environment where the arts flourished. She was sometimes called the "Virgin Queen," as she never married.
A book about a woman in a position of power.
Vera: I had some trouble coming up with an answer for this question, but I think Shae from Jade City & Jade War is someone who, due to her family, is in a position of power and that only increases as the novels progress. It's exciting to see how she deals with this, especially because she wants nothing more than to escape from this position when the series stars.
Sabrina: Though I could tell you many books that feature princesses and queens, whether their positions actually give them any power is up for debate. Therefore, I have chosen to go with The Fixer by Jennifer Lynn Barnes. It's been a while since I read this, but I know it includes women involved in politics – specifically, two characters that are 'fixers' and know all the dirt on everyone.
---
Virginia Woolf: Born into a privileged English household in 1882, author Virginia Woolf was raised by free.thinking parents. She began writing as a young girl and published her first novel, The Voyage Out, in 1915. She wrote modernist classics, including Mrs. Dalloway, To the Lighthouse and Orlando, as well as pioneering feminist works, A Room of One's Own and Three Guineas.
A book with beautiful writing.
Sabrina: Roshani Chokshi has some downright gorgeous writing, and The Star-Touched Queen perfectly demonstrates that. I felt like I was experiencing the world along with Maya, the main character.
Vera: The Astonishing Color of After by Emily X.R. Pan is a gorgeous novel, and not only because of its outstanding writing. It's heartfelt, frequently heartbreaking novel, and I loved every moment of it.
---
JOAN OF ARC: A national heroine of France, at age 18 Joan of Arc led the French army to victory over the English at Orléans. Captured a year later, Joan was burned at the stake as a heretic by the English and their French collaborators. She was canonized as a Roman Catholic saint more than 500 years later, on May 16, 1920.
A book about a female warrior.
Vera: Look, I need you to ignore that… unfortunate cover, and give a chance to the Hidden Legacy series by Ilona Andrews, because Nevada is such a badass, smart character (& the romance is nicely developed.)
Sabrina: Rachelle from Crimson Bound by Rosamund Hodge is a fighter – and not just physically. This beautifully done retelling of Little Red Riding Hood is well worth the read.
---
MAE JEMISON: Mae C. Jemison is an American astronaut and physician who, on June 4, 1987, became the first African American woman to be admitted into NASA's astronaut training program. On September 12, 1992, Jemison finally flew into space with six other astronauts abroad the Endeavour on mission STS47, becoming the first African American woman in space.
A book set in space.
Sabrina: It's no secret that I am terrified of space, and my fear was running wild while reading Binti by Nnedi Okorafor, a book that follows a girl travelling across the universe to pursue further education.
Vera: I don't read a lot of sci-fi, and only picked up These Broken Stars because I liked the sound of the ship (to be fair, I've picked up quite a few novels for that) but man, this book is everything! I love the setting, the story, the ship (duh) and the banter between Lilac and Tarver is everything.
---
ROSALIND FRANKLIN: Rosalind Franklin earned a Ph.D. in physical chemistry from Cambridge University. She learned crystallography and X-ray diffraction, techniques that she applied to DNA fibers. One of her photographs provided key insights into DNA structure. Other scientists used it as evidence to support their DNA model and took credit for the discovery.
An underappreciated book.
Vera: I'm 99.99% sure you guys are getting FED UP with me bringing up Not Even Bones ever chance I get, but this book deserves so much more attention than it's received. It's a gory, dark, morally gray masterpiece and it owns my heart.
Sabrina: I know this one has a decent number of ratings on Goodreads, but only a couple of people I follow on there even have Give Me Your Hand by Megan Abbott on their radar! This is an incredible female-centric mystery/thriller/suspense novel about ambitious women in science.
---
MARSHA P. JOHNSON: Marsha P. Johnson was a transgender LGBTQ rights activist and an outspoken advocate for trans people of color. Johnson spearheaded the Stonewall uprising in 1969 and along with Sylvia Rivera, she lated established the Street Transgender Action Revolutionaries (STAR), a group committed to helping homeless transgender young in New York City.
A book about LGBTQ+ characters.
Sabrina: We Are Okay by Nina LaCour is a heartbreaking tale of grief, loneliness and loss that also features an amazing f/f romance. I loved the characters and message in this book, and it has really stuck with me.
Vera: Not Your Sidekick by C.B. Lee is an adorable and fun sci-fi title that has a cute f/f ship and a trans supporting characters, whose story is told in the second novel. I haven't continued the series after the first book, but the third one also has aro and ace rep.
---
AMELIA EARHART: Amelia Earhart, fondly knows as "Lady Lindy," was an American aviator who mysteriously disappeared in 1937 while trying to circumnavigate the globe from the equator. She had several notable flights, including becoming the first woman to fly across the Atlantic Ocean in 1928, as well as the first person to fly over both the Atlantic and Pacific.
An award-winning book that deserves the hype.
Vera: The Hate U Give by Angie Thomas is one of the most hyped novels of the past couple of years, and it deserves all of that + every single award it received.
Sabrina: It took me way too long to pick up Bone Gap by Laura Ruby, but it was worth the wait. I loved the story and the writing. It's not one of the most hyped-up books, but it deserves to be.
---
SERENA WILLIAMS: The 23-time Grand Slam winner is known not only for her prowess on the courts but for her business acumen as well. She has invested in 34 startups over the past five years through Serena Ventures in a portfolio worth at least $10 million. Serena Ventures is focused on companies founded by women and minorities, which is where 60% of the investments have gone so far. (from Forbes)
A book that inspires us.
Sabrina: As an instructional book, I didn't find Light and Shade in Watercolour by Hazel Soan to be all that helpful, but the art inside is gorgeous and definitely inspiring.
Vera: Educated by Tara Westover is a non-fiction title that tells the story of the author who, despite the obstacles her survivalist family placed in front of her, fought to get the education she wanted.
---
Let's chat!
Who is the most inspiring woman you know of? (Can be someone close to you or a well-known person!) Who is your favorite fictional woman? Have you read any of our picks?