Emma Mills is a fairly hyped author in the book blogging community, and yet, I'd avoided her books for the longest time, because (1) Contemporary YA is not my genre, (2) for years, I had her mixed up with another author whose book I disliked in the past. You might be asking, HOW DOES ONE DO THAT? By being me, mate, by being me. 😫
Back in January, however, I decided to take a leap of faith, because so many of my trusted blogger friends have been hyping up Emma Mills for years. I picked up Foolish Hearts and I was immediately hooked. I decided then and there that I would read every single one of Mills' novels, which might seem like a big decision, but look, I found pure happiness, and who doesn't want more of that in their life?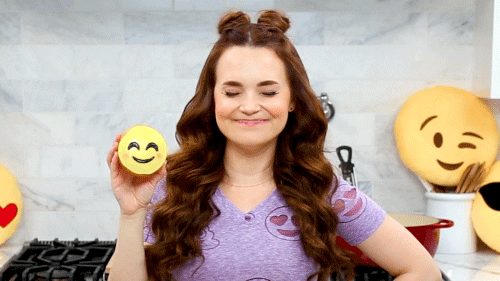 That decision was closely followed by my idea to document my progress through Mills' books, and discuss how much, or how little I enjoyed them. Thus, for today's post, I set up on order of Emma Mills's novels; we're working our way up from the weakest to the strongest title, and I'm briefly reviewing each book.
Of course, this is a very objective post! This list is not "correct" (or "incorrect"), it's only my own opinion, which may differ from yours. On that note, I'd love, love, LOVE to hear your own thoughts, and/or your own order.
First & Then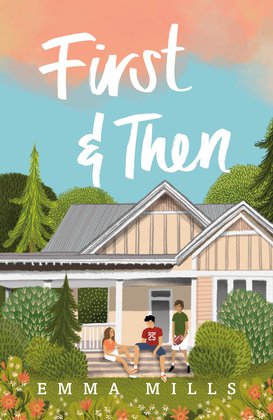 Devon Tennyson wouldn't change a thing. She's happy watching Friday night games from the bleachers, silently crushing on best friend Cas, and blissfully ignoring the future after high school. But the universe has other plans. It delivers Devon's cousin Foster, an unrepentant social outlier with a surprising talent for football, and the obnoxiously superior and maddeningly attractive star running back, Ezra, right where she doesn't want them: first into her P.E. class and then into every other aspect of her life.
My Thoughts
Unfortunately, First & Then was a far cry from the excellence I expected heading into it. While it had its strong points, mainly Ezra and Foster, it had just as many, or even more, weaker aspects to it.
But first, the good! Ezra was a wonderful love interest; he was prickly and a bit a stand-offish, a.k.a. the perfect Darcy for this light Pride and Prejudice retelling. We were also introduced to Foster, this cute, lovable kid who had to go through so damn much, and yet, he was ready to open his heart to new people. Brb, I'm crying. 😭
"When you love something, you can't be happy all the time, can you? Like, that's why you love it. It makes you feel all kinds of things, not just happy. It can hurt, it can make you fucking mad, but… it makes you feel something, you know?"
That might not sound like much, but those two characters helped me enjoy the novel when, well, everything else was not up to par with my expectations. I hate to say this, but Devon, the heroine, felt so… empty. Even though First & Then is told through her perspective, I couldn't get a good grip on who she was. Her personality revolved around (1) being judgmental, (2) having an intense crush on her best friend, Cas, and (3) wanting to go to a certain university. While she did develop towards the end, her development felt rushed and unauthentic.
Tl,dr: First & Then is very visibly a debut novel; thus certain parts of it feel underdeveloped, forced, or messy.
Lucky Caller
When Nina decides to take a radio broadcasting class her senior year, she expects it to be a walk in the park. Instead, it's a complete disaster.

The members of Nina's haphazardly formed radio team have approximately nothing in common. And to maximize the awkwardness her group includes Jamie, a childhood friend she'd hoped to basically avoid for the rest of her life.

The show is a mess, internet rumors threaten to bring the wrath of two fandoms down on their heads, and to top it all off Nina's family is on the brink of some major upheaval.

Everything feels like it's spiraling out of control―but maybe control is overrated?
My Thoughts
I need to start by saying that Jamie is the cutest, softest character ever, and my love for the book is in a big part because of him. He was so stinking adorable, and I shipped his tentative relationship with Nina like hell. On that note, if you like the "clueless characters secretly in love with each other" trope, this book is for you.
Other than these two adorable idiots, I loved all the heartwarming moments we were given. While Lucky Caller offers a bit of friendship, it mainly concentrates on family, and man, the love Nina and Jack felt towards their family made me beam so, so, so much. 😊 I especially loved Nina's soon-to-be stepfather, Dan, who is one of those people who are just genuinely kind and good.
The reason why I didn't love Lucky Caller more is pretty simple: the characters were excellent, but the novel had essentially no plot, which was an issue for me, especially during the first half. I wouldn't say I was bored per se, but I also couldn't claim that I was particularly captivated.
Famous in a Small Town
For Sophie, small town life has never felt small. With her four best friends—loving, infuriating, and all she could ever ask for—she can weather any storm. But when Sophie's beloved Acadia High School marching band is selected to march in the upcoming Rose Parade, it's her job to get them all the way to LA. Her plan? To persuade country singer Megan Pleasant, their Midwestern town's only claim to fame, to come back to Acadia to headline a fundraising festival.

The only problem is that Megan has very publicly sworn never to return.

What ensues is a journey filled with long-kept secrets, hidden heartbreaks, and revelations that could change everything—along with a possible fifth best friend: a new guy with a magnetic smile and secrets of his own.
My Thoughts
This was my fourth Emma Mills novel, and I have to say, by this time I started to see certain tropes and character types she, well, over-uses. 🙈 I wouldn't say the use of these makes her novels boring, but it does make them blend together to an extent.
That said, Famous in a Small Town had so many wonderful parts! I adored the friend group and how their individual stories/lives, even though they didn't take the main stage, felt just as real as Sophie's. I'd literally kill for a chance to read Brit's story, especially given who she has the most precious crush on. They would make such a cute, opposites attract couple. 😭
As for the romance we get here, I loved seeing the budding relationship between Sophie and August. It was wholesome even if it had a number of hiccups, and oh my god, August is such a soft, soft boy. Seeing how much he cared for his nieces from the first time he met them made me so happy.
All in all, Famous in a Small Town was a cute, heartfelt novel, with an incredibly inspiring heroine who was ready to FIGHT for her dreams.
This Adventure Ends
Sloane isn't expecting to fall in with a group of friends when she moves from New York to Florida—especially not a group of friends so intense, so in love, so all-consuming. Yet that's exactly what happens.

Sloane becomes closest to Vera, a social-media star who lights up any room, and Gabe, Vera's twin brother and the most serious person Sloane's ever met. When a beloved painting by the twins' late mother goes missing, Sloane takes on the responsibility of tracking it down, a journey that takes her across state lines—and ever deeper into the twins' lives.

Filled with intense and important friendships, a wonderful warts-and-all family, shiveringly good romantic developments, and sharp, witty dialogue, this story is about finding the people you never knew you needed.
My Thoughts
I saved This Adventure Ends as my last Mills read, because it's generally regarded as one of her best titles; and while that's true, it didn't reach the heights of Foolish Hearts, imo.
The strongest part of this novel is easily the friendship between the characters. This time, Mills really showed that despite the conflicts, despite the low points, the friendship remains just as strong – and even if there's a change in the dynamic of the group, it doesn't have to be a bad change.
I also found the romance adorable, although I would have needed to see a liiiitle bit more of their development to really, truly root for them. But to make up for that, we had wonderful family dynamics! Sloane's little sister was precious, and their parents felt so realistic in the way they were dealing with their issues.
Even though I adored everyone, and enjoyed Sloane's hunt for the painting, I was somewhat put off by how bloody unrealistic some of the characters (and the dialogue) felt. I got used to it, but this is by far her most unrealistic novel in terms of the characters and their voices.
Foolish Hearts
When Claudia accidentally eavesdrops on the epic breakup of Paige and Iris, the it-couple at her school, she finds herself in hot water with prickly, difficult Iris. Thrown together against their will in the class production of A Midsummer Night's Dream, along with the goofiest, cutest boy Claudia has ever known, Iris and Claudia are in for an eye-opening senior year.

Smart, funny, and thoroughly, wonderfully flawed, Claudia navigates a world of intense friendships and tentative romance in Foolish Hearts, a YA novel about expanding your horizons, allowing yourself to be vulnerable, and accepting–and loving–people for who they really are.
My Thoughts
Y'all, Foolish Hearts stole my heart in a way very, very few books have done so. I felt a wide range of emotions, each hitting me like a kick to the stomach. I smiled, I laughed, I frowned, I teared up alongside these wonderful, complex characters. I was invested in their lives, in their story, and I had a hard time closing the book and accepting the fact that I'm never "seeing" any of them again, unless I reread the book. I want to follow their lives into eternity, please and thank you!
"Sometimes it's hard to know if something's for real? It's hard to believe it, even if you want it to be real. Even if you want it so badly. Sometimes it seems…safer, you know. Not to risk it."
What I've just said shows you that what makes Foolish Hearts a precious little book are its characters and the relationships that connect them. Be these relationships negative, neutral, or positive, they felt complex and perfectly developed. I tried to think of which relationship to discuss briefly, and honestly, I cannot choose! Be it a friendship, romance, or a relationship between family members, Mills put her – and the characters' – heart and soul into writing them in a nuanced, beautiful way. Hats off to Emma Mills, because, boy, can she write!
Final Thoughts
The question, I guess, is: would I recommend Emma Mills' novels? Hell yes! While I didn't find them perfect, they made me beam and laugh A LOT, and Foolish Hearts actually joined the list of my all time favorite novels. It was that special.
I think I made a mistake when I read three of Mills' novels super-close to each other because they are similar enough for them to start to blend together after a while. That said, they are all worth reading for their entertaining banter, cute relationships, and fun characters.
Let's chat!
What's your favorite YA Contemporary? Have you read anything by Emma Mills? Do you agree with my ranking?