Hello, friends! If you're familiar with current romance authors, you've probably heard about Alyssa Cole, award-winning author and my newest favorite. I'll admit that I haven't read all – or even most – of her works, and I originally wanted to wait until I get there, and make a post like I did for Talia Hibbert, but after reading the A++ conclusion to Cole's Reluctant Royals series I couldn't contain my excitement. I needed to share why Alyssa Cole and her novels are freaking incredible. I also figured that, after tackling more books by her, I can always come back and do an author feature for her, so it's all good.
On a side note, I have so much to do right now, but I cannot not write this, so here we are. Everything else can WAIT. ¯\_(ツ)_/¯
As the title indicates, this post will concentrate on the Reluctant Royals series, but before we get there, let me quickly mention another series by Alyssa Cole, The Loyal League. I've only read the first book, An Extraordinary Union, so far, but I own the others as well, and I'm very much looking forward to them.
An Extraordinary Union

A Hope Divided

An Unconditional Freedom
Blurb of An Extraordinary Union
Elle Burns is a former slave with a passion for justice and an eidetic memory. Trading in her life of freedom in Massachusetts, she returns to the indignity of slavery in the South—to spy for the Union Army.

Malcolm McCall is a detective for Pinkerton's Secret Service. Subterfuge is his calling, but he's facing his deadliest mission yet—risking his life to infiltrate a Rebel enclave in Virginia.

Two undercover agents who share a common cause—and an undeniable attraction—Malcolm and Elle join forces when they discover a plot that could turn the tide of the war in the Confederacy's favor. Caught in a tightening web of wartime intrigue, and fighting a fiery and forbidden love, Malcolm and Elle must make their boldest move to preserve the Union at any cost—even if it means losing each other . . .
---
Introducing Reluctant Royals Novels
A Princess in Theory (Reluctant Royals 1): Naledi has about had it with all the spam she's received about her betrothal to a prince of a small African kingdom. She has enough problems as it is, and does not need some weirdo to harass her like that. What she doesn't know is that this story is, indeed, very real, and not only has the prince arrived to New York, but she's already met him…
My thoughts:
Naledi studies and works in STEM – she is a female in scientist, which is always exciting! Her job is not just an accessory for her character (as it sometimes happens in books), but a huge part of who she is. Cole does a great job of showing the obstacles Naledi faces as a woman of color in STEM, the sexism and racism, and how these things influence her work and her whole life.
The romance is so lovely. Outwardly, Naledi and Thabiso have little in common with each other, but they make sense as a couple despite their differences. The fact that Thabiso pretends to be someone else after his arrival to New York could be a problem, but it's handled so well in the novel, you won't be disappointed.
I loved the emphasis on family and friendship. The closest thing Naledi has to a family is her best friend, Portia, and their relationship is far from perfect. They have a lot to work out, and I adored this so much. I feel like in a lot of cases we get (1) no influential friendships, or (2) perfect friendships, but that definitely wasn't the case here.
---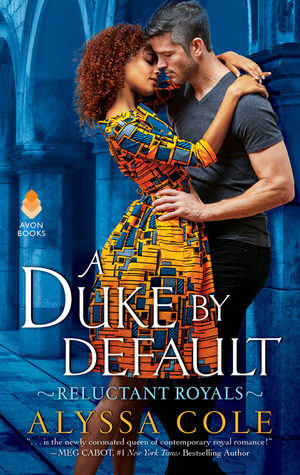 A Duke by Default (Reluctant Royals #2): Portia is done with disappointing those that matter to her the most and herself. She's wants to do something valuable with her time, and is immensely excited about her apprenticeship to a struggling Scottish sword-maker. Enter gruff, grumpy Tavish, who does not want to be told how to run his business… much less how to handle the discovery that he is a duke.
My thoughts:
The chemistry between Portia and Tavish is off the charts – even when Tav annoyed the heck out of me, I was high-key shipping these two, because they fit together so well. I adored their banter, and loved the way they were so supportive and appreciative of each others' strengths and talents. A++ relationship.
Similarly to A Princess in Theory there is a huge emphasis on family and friendship – the support and help you can receive from and give to them, but also the way they can hurt you with their disappointment in you. Portia and Naledi have a beautiful, balanced friendship, while Portia and her sister, Reggie, were also given a chance to work out their issues and misunderstandings. Tav's family was also freaking wonderful, and I loved his interactions with them.
A Duke by Default also includes the topic of racism, particularly connected to the refugee crisis in Europe. Moreover, Portia realizes she has ADHD during the novel, and Alyssa Cole portrayed this process, this weight that's been lifted off Portia (who's been told she's a "failure" throughout her life), so respectfully.
"Something in her loosened with relief as the possible diagnosis repeated itself in a loop in her brain. ADHD! ADHD! ADHD! She had a word to use for her behavioral patterns. There were other people who felt the same way she did, maybe."
---
Once Ghosted, Twice Shy (Reluctant Royals 2.5): During the time her boss, Thabiso, spent in New York with Naledi, personal assistant Likotsi met an incredibly woman. However, their whirlwind romance came to an abrupt end when Fabiola broke off their relationship without explanation. Now Likotsi is back in New York, ready to revisit their favorite places and to finally put the past behind her… that is, until she runs into Fabiola, who asks for a chance to explain herself.
My thoughts:
It's short, sweet and fun. I simply adored the idea that these two woman run into each other, and go on an impromptu trip through the city, visiting cool, unique places.
It tackles the topic of immigration and deportation – how deporting one person, one member of a family can change and have a catastrophic effect on multiple lives. I love how Alyssa Cole always incorporates current issues into her works, and does so with the utmost respect and care.
The main characters are super-cool: Likotsi is this confident businesswoman working for Thabiso, while Fabiola is a talented jewelry-maker. I love them tons both as individuals and as a couple.
---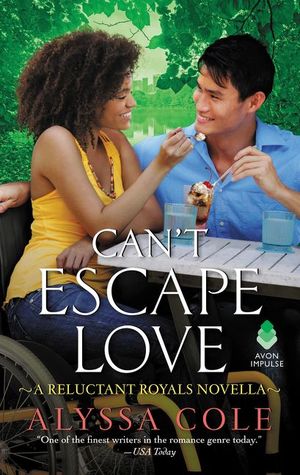 Can't Escape Love (Reluctant Royals 2.6): Reggie, Portia's sister, has spent years working on Girls with Glasses, a pop-culture centered enterprise that aims to welcome everyone with open arms, without discrimination. Recently, she's takenGirls with Glasses to the next stage, quitting her job and concentrating all her efforts on her business. Unfortunately, the stress of it all has awakened Reggie's insomnia, and when the puzzle-solver live streamer with the most soothing voice deletes all his past videos, Reggie has no choice but to reach out to him, asking for recordings of his voice. What starts out as a mutually beneficial business deal – Gus providing his voice, Reggie aiding Gus in creating an escape room based on an anime she adores – soon turns into something more.
My thoughts:
Another short one, but this one gets a higher score from me then the previous titles in the series – there's just something so wholesome in Reggie and Gus bonding over being nerdy. Also, you gotta love that Gus, at first watch, didn't get the hype over the anime, but he's willing to listen to Reggie and try to experience what the fans might be experiencing. He wants to do a bloody good job, and he will do just that. Basically, I love him.
I loved Reggie's confidence and sass – she is someone who knows she's awesome, and that's just freaking great to see.
We've already seen Portia's side of things, and know that their parents have favored Reggie over Portia, but it was nice to see the unique ways in which Reggie struggled in their family. Yes, she was the favorite and the trust-worthy kid, but she was hurt by them in other ways, and I was glad to see that discussed here.
---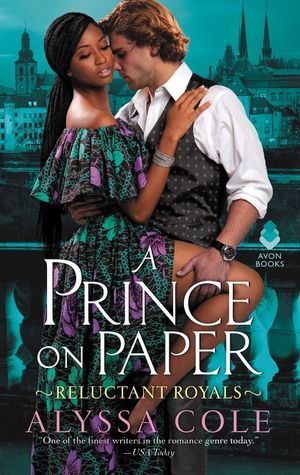 A Prince on Paper (Reluctant Royals 3): The past couple of years Nya has spent in New York have not been as life changing as she expected, and she's also had to realize that, well, men aren't all that. ¯\_(ツ)_/¯ On her flight back to Thesolo, Nya ends up in the same bed(room) as Johan, stepson to the king of Liechtienbourg and notorious party-boy, who simultaneously annoys and fascinates her. Being in close proximity to each other at their friends' wedding, the two have no other choice, but to get to know each other. The more time they spend together the clearer it becomes to Nya that Johan's act is just that: an act to turn the media's gaze away from his little brother.
My thoughts:
It features some of the best romance tropes. Firstly, Nya and Johan are forced together multiple times at their friends wedding = forced proximity. Secondly, Cole makes great use of the fake dating trope, as our protagonists pretend to be engaged. Thirdly, Johan seems like a 'party-boy' but he is actually so kind and soft and caring. To be honest, the 'bad boy with a soft heart' trope is not my favorite – but it works fantastically here.
The importance of friendship is highlighted constantly – while Johan is very supportive and caring, it is Nya's close friends who help her through the issues she faces, including her horrible father.
On that note, Nya's complicated feelings towards her father and her attempt to escape his influence are incredibly well-portrayed. It broke my heart to see what this woman has gone through, but I was also empowered by her strength and resilience.
---
I really hope I managed to convince you all to pick up these books, because lord, they are so damn good and they deserve ALL the love! Bonus is that the series has ended (*cries*) so you can, if you want, binge the whole thing together!
Let's chat!
Do you like royal romances/books? Have you read any of the Reluctant Royals novels? If yes – what did you love the most about it? Do you have any diverse romance recs for me?