If you're like me – that is, you read a lot – you've probably struggled with trying to fit in every single note-worthy book into one, or two comprehensive posts at the end of the year. Of course one can divide them into more than that, but even so I've always felt like I wasn't able to showcase everything I wanted. Which is why I'm doing the two halves of 2019 separately – and I'm treating you to my tops and bottoms of the first half of 2019 this week, starting from today when you get the best of 2019 so far.
So buckle up, friends, because I have lots of books begging to be read and loved by you, and I cannot wait to push them at you to gently recommend them to you. Ready? I am. *cracks fingers*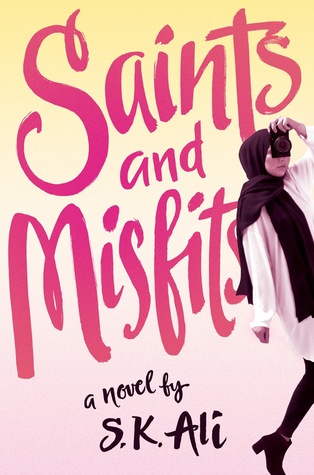 It feels so weird to talk about Saints and Misfits, because I've recently posted a mini review for it, so I feel like I'm repeating myself here, but I can't not rave about this beautiful YA contemporary. Saints and Misfits swept me clear off my feet – Ali created vivid, realistic characters who were an absolute delight to get to know, and whose struggles felt real. S.K. Ali is an incredible writer, and deserves 1000x more hype than she's received, so I beg you, do try her works if they feel up your alley.

trigger warning: sexual assault
---
Long Way Down by Jason Reynolds, aka another title I've already reviewed, took me on a journey like few other novels have managed to, and did so in an incredible short time (the audiobook is less than two hours long.) The story centers around Will, a teen who has to decide whether or not he should murder the supposed killer of his older brother. On the elevator ride down from his flat he is visited by six ghosts who are connected to him in some way, and who show him perspectives he hasn't yet considered. It's raw, it's powerful and it's so well written you won't be able to put it down until the end. If possible, consider getting the audiobook, because the author himself is narrating the story, which made it all the more special for me.
---
Love From A to Z, S.K. Ali's sophomore novel, was somehow able to exceed my deep love for her debut, which is to say something. The book tackles Islamophobia head on, as it shows us the discrimination hijabi Zayneb faces not only from strangers, but her own teacher as well. I loved reading about Zayneb, this girl who has so much (rightful) anger inside her, and who has to learn how to handle it, so she can help others and herself. Her fight against hatred and ignorance was so inspirational to read about, and I loved the strong presence of family, friends and, of course, love, as Love From A to Z is a romance novel, as well. Adam, the hero, was an equally strong presence in the novel, and his development was amazing to see. Love From A to Z is not only a favorite for the first half of 2019, but also one of my all time favorite contemporaries, and I hope you'll give it a chance, as well.

trigger warning: Islamophobia
---
I've been following Mason Deaver, author of I Wish You All the Best, on twitter for a long time, so I was incredibly excited for their debut, and I was not at all disappointed. I Wish You All the Best is a heartfelt novel about Ben, a nonbinary teen who's thrown out of their house after they come out to their parents. Ben moves in with their estranged sister Hannah and her husband, and enrolls into the local high school, planning to stay under the radar until graduation. Their plan is ruined by Nathan, who takes Ben under his wing, showing them around and introducing them to his friends. First of all, the friendship (and then the budding romance) between Ben and Nathan was so well crafted, I could cry. It was so genuine and beautiful!? And then, to top it all, we also have an excellent portrayal of Ben's complicated relationship with their parents and their sister, therapy positivity and great friends. I can hardly wait for Deaver's next novel, because I'm already a massive fan of theirs.
I went into Little Darlings by Melanie Golding with high expectations, and I'm so pleased to say that it not only lived up to them, but well exceeded them. Before we get into what I thought – can we take a moment to be angry at whoever wrote the official blurb? It shares too much of the plot and, in my opinion, highlights the wrong aspects, so if you can, try to avoid reading it! At the core of Little Darlings is Detective Jo who gets pulled into a weird case where new mom Lauren claims that someone is out there to get her twins. It's a chilling concept, especially because we get to see certain scenes from Lauren's perspective, who fully believes that something supernatural is going on. Mysterious and deliciously dark, Little Darlings is perfect for anyone who enjoys psychological thrillers. And look! I have a full review for it here.
---
Going into The Birds and Other Stories, I was quite hesitant – I adore Rebecca and My Cousin Rachel by Daphne du Maurier, however, The Frenchman's Creek was a bit of a disappointment, and short stories tend to be a hit or miss for me. I shouldn't have worried, though – each and every story in this collection was so well-written and unique that I'm already itching to reread them. I think what I loved the most about this collection is that many of the stories had some surprising twists in them, and the characters were just spectacular, which is something I've come to expect from the author. Highly recommended, especially for fans of darker, more sinister stories.
---
"She's dead is the reason I'm going to kill a man."

Sadie by Courtney Summers
---
Courtney Summers' Sadie is a novel unlike anything I've ever read, and one I won't forget. The story centers around Sadie, a teen who decides to track down and kill her little sister's murderer. We follow her journey in the past while simultaneously reading about the present, where podcast host, West, is trying his best (look at that rhyme, though!) to find Sadie. It's a rather heavy read, as we know Sadie has disappeared, and there's a chance she'll never be found, not to mention that the novel also deals with pedophilia, alcoholism and sexual assault. Sadie is a gripping, fast read that deserves to be read and remembered, as a lot of elements of it are raw and realistic.
Alyssa Cole joined the list of my favorite romance authors incredibly swiftly last year, and so it's no surprise that A Prince on Paper was one of my most awaited novels of 2019 – and it did not disappoint! This book – and the whole Reluctant Royals series – is entertaining, serious and heartwarming at the same time, so it's really easy to get lost in it. Especially because each and every character is an absolute delight, including the protagonists of A Prince on Paper, Nya and Johan. It's an added bonus that A Prince on Paper has the fake dating trope, which is one of my absolute favorites.
I decided not to include novellas in this post, but I still need to shout out Once Ghosted, Twice Shy and Can't Escape Love, both of which are part of the Reluctant Royals series, and are freaking amazing.
---
The Bride Test had a lot to live up to, as Helen Hoang's debut, The Kiss Quotient, was one of my favorite books of last year – or, to be honest, probably ever. Hoang is an incredible story-teller: her characters are vivid and realistic, while the story and the romance is A++ as well. Khai's mom, who has long worried about her son's lack of romantic life, takes matters into her own hands when she comes back from Vietnam with a would-be-wife in tow: Esmé. Esmé, who lives in poverty, is ready to fight for Khai's love if it grants her daughter and herself a better life. I love forced proximity stories, and The Bride Test is forced proximity at its best; Khai and Esmé are forced to live together, and slow by slow they get to know each other. It's a beautiful novel, with #OwnVoices autistic rep, so if you're into romances even a bit, I highly recommend you give The Bride Test and The Kiss Quotient a chance. Also, Ruzi and I have discussed the novel here.
---
That Kind of Guy was another much awaited novel of mine – as you can probably tell, I've been very much into Romance in the past, I'm not sure, two years? So, obviously, there were loads of romances on my "can't wait shelf" for 2019, but this one, y'all, this one was in the top three. I love Talia Hibbert's works to bits, as I've discussed here, and That Kind of Guy sounded particularly great. I mean, who can say no to fake dating and the "there's only one bed" trope? I sure as fuck can't, and that's a good thing, because That Kind of Guy was everything I wanted, and more. Everything was A+: the plot, the characters, the chemistry – it's all there, it's all perfect, it's exactly what I've come to expect from Talia Hibbert.
---
Damn, Nalini Singh never disappoints – Wolf Rain, the 3rd installment in the Psy-Changeling Trinity series, and the 18th (!) in the whole Psy-Changeling universe, fully delivered. And can I just say – I went in for Alexie, but it was Memory who stole the show. She was an incredibly character, who really stands out from the series for me, even though I was originally skeptical of another Empath being at the center of a novel, but she was such an engaging protagonist. And the plot itself managed to surprise the heck out of me – it was somehow darker, more sinister than ever before, and I loved it. I can't wait for the next (and the next and the next.. you get it?) addition to the series.
---
I discovered Lucy Parker earlier this year, and her novels in the London Celebrities series (Act Like It is book 1!) have been life-saving during my exam period. They are entertaining, light and each and every couple is one I couldn't help but adore. Parker decidedly likes to play around with the hate to love trope – all three of the four novels utilized this trope to an extent – and didthis in a unique, fun way. The series centers around, as the title suggests, celebrities from London, including actors from the world of the theater, a director, as well as an acrobat and a makeup artist. The books have a very rom-com vibe to them – even when sad, or dramatic things are happening, the happy ending is very much guaranteed, and all issues tend to be resolved relatively fast, which is just what my stress- and angst-hating self loves. Unfortunately, I haven't had the chance to read the fourth book yet, but I'm on it.
The Burning Sky by Sherry Thomas wasn't my favorite, but it was good enough for me to continue the series – which I did, because I had the whole trilogy borrowed from the library at the same time. I really enjoyed the romance, buuut I do think it could have been better, which, sadly, was also my impression after reading a historical romance by Sherry Thomas. Still have her YA historical mystery to try, and I'm excited for it, that's for sure.
---
Fun, fun, FUN! That's how I'd categorize New Orleans Rush by Kelly Siskind, an immensely entertaining and cute rom-com. Our heroine, Beatrice, moves to New Orleans to be with her boyfriend… who swiftly breaks things off with her. Understandably frustrated, Beatrice (drunkenly) keys her ex's car… just to have a stranger, Huxley, aka the actual owner of the car, appear next to her. Oops? Now Bea is stuck being a magician Huxley's assistant to pay off her debt… which actually might not be as bad as she originally thought.
---
I've more or less given up on the Bitten series last year, but my curiosity got the best of me, and I ended up continuing on with the books. No Humans Involved, however lukewarm it was at first, stands as my favorite from the series so far. Maybe it's the fact that it tells the story of Jaime and Jeremy, both of whom I've really enjoyed so far in the series, or it might be that Jaime is a necromancer (something I love!), but this was a highly enjoyable ride.
---
Lisa Kleypas is one of my favorite Historical Romance authors, who always treats me to an adorable and highly ship-worthy romance… exactly as she did with Devil's Daughter. She's really good at including family and friends in her novels, so it wasn't any surprise to see the care Kleypas put into portraying Phoebe's relationship with her kids. I'm no fan of kids – in or outside of novels – but it was simply heartwarming to read about all the mischief they got themselves into during the novel.
---
It was pure luck that made me find A Wicked Kind of Husband by Mia Vincy, because this is an incredibly underrated/under-promoted novel that deserves more attention, in my opinion. The plot centers around a husband-wife duo who are only married in name, and who haven't seen each other since their wedding night – that is, until the heroine is forced to go to London to find a sponsor for her sister. Expect entertainment, but also to be punched in the feels – all in all, Mia Vincy created such a vivid, lovely story here that hits all the marks a historical romance should.
---
Let's chat!
That was all for now, friends! Hope you've enjoyed this look into my favorites of the first half of 2019! Have you read, or plan to read any of these? What have been your favorite books of 2019 so far?
Hope you'll be tuning in for the second part of this series, featuring my least favorites of 2019 so far, coming on Saturday!