Hello, friends! I'm excited to announce that Clare and I (I translates to Vera!) are re-starting Top Ten Tuesday (hosted by That Artsy Reader Girl) because we've genuinely missed this feature on the blog. This means two things: (1) we're going back to our old post-schedule, that is, we'll put out posts on Tuesday, Thursday and Saturday, (2) you'll be treated to our wonderful wit even more each week! How fun!
(I'll see myself out.)
No, but seriously, I'm very excited for this post, and to make the first time fun, we decided to challenge ourselves. Clare and I have each chosen 5-5 books we are 1000% sure we'll love, and on the 30th of July (a freebie Tuesday of TTT) we'll come back and share the results. Will we manage to read the books? Will they live up to our expectations? You'll have to wait and see. *cue in dramatic music*
Vera's Five
The Austen Playbook by Lucy Parker

Freddy Carlton knows she should be focusing on her lines for The Austen Playbook, a live-action TV event where viewers choose the outcome of each scene, but her concentration's been blown. The palatial estate housing the endeavor is now run by the rude (brilliant) critic who's consistently slammed her performances of late. James "Griff" Ford-Griffin has a penchant for sarcasm, a majestic nose and all the sensitivity of a sledgehammer.

She can't take her eyes off him.

Griff can hardly focus with a contagious joy fairy flitting about near him, especially when Freddy looks at him like that. His only concern right now should be on shutting down his younger brother's well-intentioned (disastrous) schemes—or at the very least on the production (not this one) that might save his family home from the banks.

Instead all he can think of is soft skin and vibrant curls.

As he's reluctantly dragged into her quest to rediscover her passion for the stage and Freddy is drawn into his research on a legendary theater star, the adage about appearances being deceiving proves abundantly true. It's the unlikely start of something enormous…but a single revelation about the past could derail it all.
---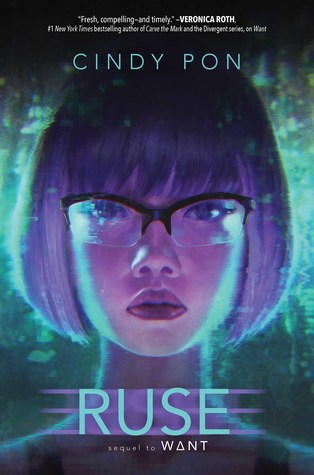 Ruse (Want #2) by Cindy Pon

BLURB (of book 1, Want): Jason Zhou survives in a divided society where the elite use their wealth to buy longer lives. The rich wear special suits that protect them from the pollution and viruses that plague the city, while those without suffer illness and early deaths. Frustrated by his city's corruption and still grieving the loss of his mother, who died as a result of it, Zhou is determined to change things, no matter the cost.

With the help of his friends, Zhou infiltrates the lives of the wealthy in hopes of destroying the international Jin Corporation from within. Jin Corp not only manufactures the special suits the rich rely on, but they may also be manufacturing the pollution that makes them necessary.

Yet the deeper Zhou delves into this new world of excess and wealth, the more muddled his plans become. And against his better judgment, Zhou finds himself falling for Daiyu, the daughter of Jin Corp's CEO. Can Zhou save his city without compromising who he is or destroying his own heart?
---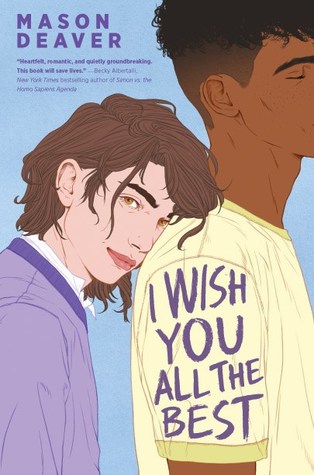 I Wish You All the Best by Mason Deaver

When Ben De Backer comes out to their parents as nonbinary, they're thrown out of their house and forced to move in with their estranged older sister, Hannah, and her husband, Thomas, whom Ben has never even met. Struggling with an anxiety disorder compounded by their parents' rejection, they come out only to Hannah, Thomas, and their therapist and try to keep a low profile in a new school.

But Ben's attempts to survive the last half of senior year unnoticed are thwarted when Nathan Allan, a funny and charismatic student, decides to take Ben under his wing. As Ben and Nathan's friendship grows, their feelings for each other begin to change, and what started as a disastrous turn of events looks like it might just be a chance to start a happier new life.
---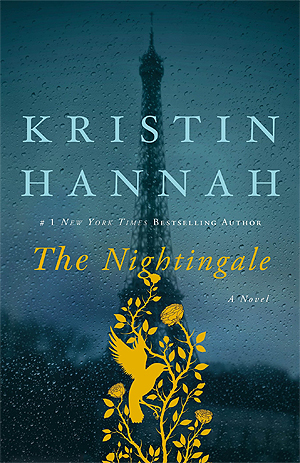 The Nightingale by Kristin Hannah

France, 1939
In the quiet village of Carriveau, Vianne Mauriac says goodbye to her husband, Antoine, as he heads for the Front. She doesn't believe that the Nazis will invade France…but invade they do, in droves of marching soldiers, in caravans of trucks and tanks, in planes that fill the skies and drop bombs upon the innocent. When France is overrun, Vianne is forced to take an enemy into her house, and suddenly her every move is watched; her life and her child's life is at constant risk. Without food or money or hope, as danger escalates around her, she must make one terrible choice after another.

Vianne's sister, Isabelle, is a rebellious eighteen-year-old girl, searching for purpose with all the reckless passion of youth. While thousands of Parisians march into the unknown terrors of war, she meets the compelling and mysterious Gäetan, a partisan who believes the French can fight the Nazis from within France, and she falls in love as only the young can…completely. When he betrays her, Isabelle races headlong into danger and joins the Resistance, never looking back or giving a thought to the real–and deadly–consequences.
---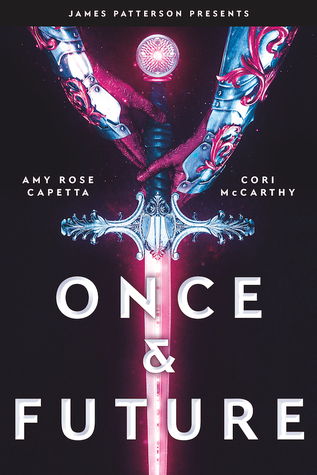 Once & Future by Amy Rose Capetta and Cori McCarthy

I've been chased my whole life. As a fugitive refugee in the territory controlled by the tyrannical Mercer corporation, I've always had to hide who I am. Until I found Excalibur.

Now I'm done hiding.

My name is Ari Helix. I have a magic sword, a cranky wizard, and a revolution to start.

When Ari crash-lands on Old Earth and pulls a magic sword from its ancient resting place, she is revealed to be the newest reincarnation of King Arthur. Then she meets Merlin, who has aged backward over the centuries into a teenager, and together they must break the curse that keeps Arthur coming back. Their quest? Defeat the cruel, oppressive government and bring peace and equality to all humankind.

No pressure.
Clare's Five
Play of Passion (Psy-Changeling #9) by Nalini Singh

In his position as tracker for the SnowDancer pack, it's up to Drew Kincaid to rein in rogue changelings who have lost control of their animal halves- even if it means killing those who have gone too far. But nothing in his life has prepared him for the battle he must now wage to win the heart of a woman who makes his body ignite… and who threatens to enslave his wolf.

Lieutenant Indigo Riviere doesn't easily allow skin privileges, especially of the sensual kind- and the last person she expects to find herself craving is the most wickedly playful male in the den. Everything she knows tells her to pull back before the flames burn them both to ash… but she hasn't counted on Drew's will.

Now, two of SnowDancer's most stubborn wolves find themselves playing a hot, sexy game even as lethal danger stalks the very place they call home.
---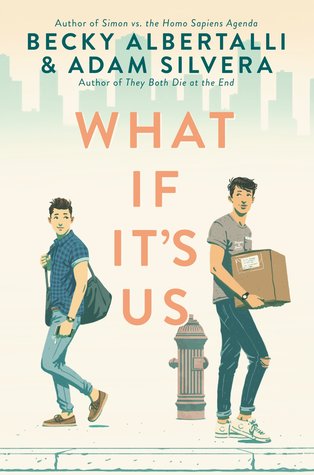 What If It's Us by Becky Albertalli and Adam Silvera

Arthur is only in New York for the summer, but if Broadway has taught him anything, it's that the universe can deliver a showstopping romance when you least expect it.

Ben thinks the universe needs to mind its business. If the universe had his back, he wouldn't be on his way to the post office carrying a box of his ex-boyfriend's things.

But when Arthur and Ben meet-cute at the post office, what exactly does the universe have in store for them?
Maybe nothing. After all, they get separated.
Maybe everything. After all, they get reunited.
But what if they can't quite nail a first date . . . or a second first date . . . or a third?
What if Arthur tries too hard to make it work . . . and Ben doesn't try hard enough?
What if life really isn't like a Broadway play?
But what if it is?
---
Trade Me by Courtney Milan

Tina Chen just wants a degree and a job, so her parents never have to worry about making rent again. She has no time for Blake Reynolds, the sexy billionaire who stands to inherit Cyclone Technology. But when he makes an off-hand comment about what it means to be poor, she loses her cool and tells him he couldn't last a month living her life.

To her shock, Blake offers her a trade: She'll get his income, his house, his car. In exchange, he'll work her hours and send money home to her family. No expectations; no future obligations.

But before long, they're trading not just lives, but secrets, kisses, and heated nights together. No expectations might break Tina's heart…but Blake's secrets could ruin her life.
---
You Owe Me a Murder by Eileen Cook

17-year-old Kim never expected to plot a murder. But that was before her boyfriend dumped her for another girl. Now, Kim's stuck on a class trip to London with him and his new soulmate and she can't help wishing he was a little bit dead, even if she'd never really do that.

But when Kim meets Nicki, a stranger on the plane who's more than willing to listen to Kim's woes, things start to look up. Nicki's got a great sense of humor, and when she jokes about swapping murders, Kim plays along—that is, until Kim's ex-boyfriend mysteriously dies.

Blackmailed by Nicki to fulfill her end of the deal, Kim will have to commit a murder or take the fall for one.
---
We Are Young by Cat Clarke

On the same night Evan's mother marries local radio DJ 'Breakfast Tim', Evan's brand-new step-brother Lewis is found unconscious and terribly injured, the only survivor of a horrific car crash.

A media furore erupts, with the finger of blame pointed firmly at stoner, loner Lewis. Everyone else seems to think the crash was drugs-related, but Evan isn't buying it. With the help of her journalist father, Harry, she decides to find out what really happened that night.

As Evan delves deeper into the lives of the three teenagers who died in the crash, she uncovers some disturbing truths and a secret that threatens to tear her family – and the community – apart for ever…
Let's chat!
Do you have any books you feel like you *must* read during the summer? Or any that you have particularly high expectations for? Have you read any of these novels?